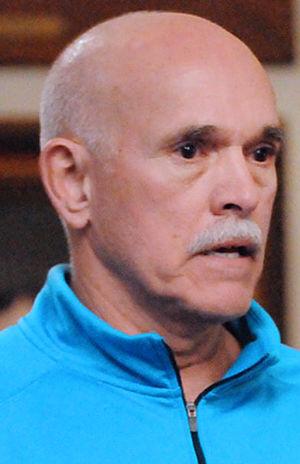 The much anticipated COVID-19 vaccine has arrived in Indiana and some of the first recipients of the new drug were administered shots this week at Clark Memorial Health in Jeffersonville.
Initial recipients of the vaccine will be frontline healthcare workers who are most exposed to the virus on a daily basis and one of those receiving his first of two shots — the vaccine is given in two doses about three weeks apart for full efficacy — was Jefferson County Health Officer Dr. John Hossler.
Hossler, who works out of King's Daughters' Health in Madison and is one of the doctors providing services at the hospital's COVID clinic, said the procedure was quick and painless other than having to travel to Jeffersonville to receive the injection.
Clark Memorial is one of two sites in the state to receive the initial shipment of the vaccine and one of about 11 sites that will initially make up a system of regional distribution hubs due to the specialized requirements for storage of the vaccine.
The vaccine received at Clark Memorial was produced by drug company Pfizer in Michigan and arrived in containers of dry ice. It must be stored at -70 degrees fahrenheit in ultra-cold freezers until just before use. The drug is then allowed to thaw and must be injected within six hours to remain effective.
Hossler said he preregistered for the injection online, received an appointment on when to arrive and was quickly given the shot upon arrival. Afterwards, he remained at the hospital for several minutes to be observed for any adverse affects, checked out the distribution procedures and then drove back to Madison.
"Clark started giving the vaccine to frontline healthcare workers Monday afternoon and on Tuesday they had given about 200 shots by the time of my appointment at 3:50 p.m.," Hossler said. "They said there had been no adverse reactions so far. While I was there they gave me an appointment time for the second shot in three weeks so all of that is taken care of."
So far, about 20,000 Indiana healthcare workers statewide have registered to get their first dose and more than 50 Indiana hospitals and clinics are expected to receive a more than 55,000 doses of vaccine by the end of this week with additional shipments expected weekly.
Hossler said the vaccine distribution process will be dependent on how much vaccine Pfizer and other vaccine makers can produce and ship. The distribution model will target frontline healthcare workers initially, workers and elderly residents of long-term care facilities secondly and other groups after that such as first responders, elderly at-risk residents and the general population. He said it could be weeks before the vaccine is widely available and urged residents to continue to be vigilant on mask wearing, social distancing and hand washing.
In fact, Hossler said that even though he is now halfway to being vaccinated for the coronavirus, he intends to continue following safety protocols like mask wearing, social distancing and hand washing. Based on what testing was completed prior to the vaccine being fast-tracked into distribution, the drug is estimated to be 96% effective — a success rate much higher than the 90% effective rate considered successful by most vaccines — but that still leaves significant exposure for a virus that has proven deadly for more than 6,657 Hoosiers, 303,867 Americans and 1.6 million people worldwide.
Up until now, Hossler said the only defense most people have had against the coronavirus has natural immunity, isolation to avoid exposure and possible immunity for those who have been infected and recovered. The vaccine could be a game changer depending on how effective it is both short term and long term.
Infectious disease experts are gathering data on how long survivors of COVID-19 can expect immunity and they'll study the vaccine similarly to determine how much protection both virus antibodies and the vaccine provide. Hossler said since the COVID vaccine was fast-tracked into production, there is much to be learned and it could take months or years to determine if follow up booster shots or modifications in dosage or delivery are required. Most vaccines take four or five years to reach market, allowing developers to answer many of those questions prior to widescale distribution.
Although it could be weeks before the vaccine is widely available in Madison, other local frontline workers are expected to receive the vaccine sooner — Dr. George Alcorn, another doctor in the local COVID clinic, got his on Tuesday as well — but once the flow of vaccine begins Hossler expects it to be significant and steady based on his experience.
"Once the pipeline is established I think there will be a pretty good influx of vaccinations available," Hossler said, later adding, "I think we're seeing the road back to normalcy ... at least we're seeing the light at the end of the tunnel."