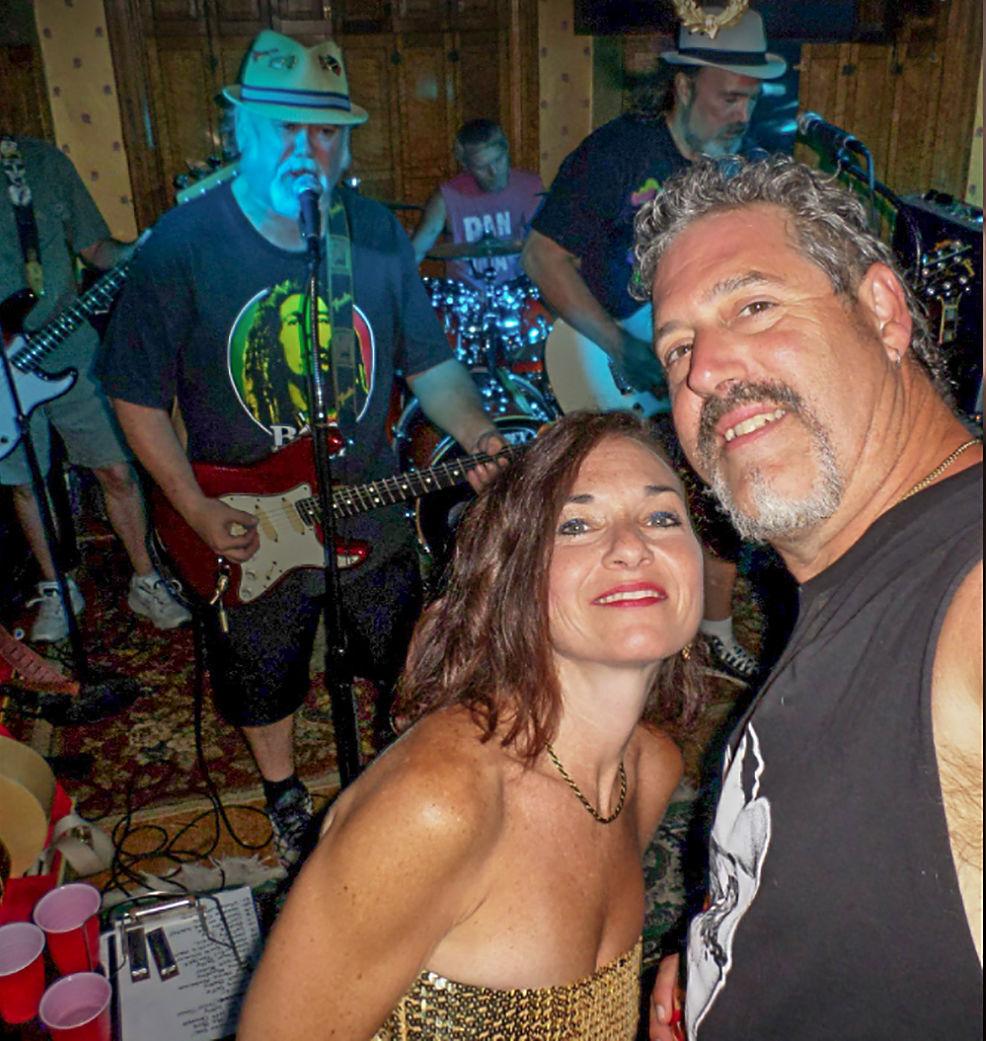 Mark and Julie Perkins are the textbook definition of the term "impresario." If you don't know the word, I'll save you the trouble of looking it up: "A person who organizes and often finances concerts, plays or operas."
In Europe back in the day, most of the great classical composers were supported by kings or nobility. In America's great cities, the arts are often dependent on the largesse of wealthy families and captains of industry. In Vevay, Indiana, it's Mark and Julie who stoke the fires of creative expression.
"We're not musically talented ourselves," explains Julie. "But music is very important to us, and we want to be a part of it. Supporting local musicians and hosting shows is what we can do to make it happen."
The performances take place in their spacious Victorian home in downtown Vevay, a place they have affectionately named Big Blue. "We visited Vevay on a vacation trip back in 2006," explains Mark. "Within hours of exploring the town I was saying 'I wanna buy a house here!' By 2008 we'd found and bought Big Blue and we started coming over pretty much every weekend while I was still working. Now I've retired and we're here full time."
"We were having our first Halloween party in the house," recalls Julie. "And I thought, why not see if we can host a live band in here? Our parlor is really big, and it opens to several other rooms. We had about 20 people that night and I could see the potential.
"Since that first show, what's it been, 13 years now, we've probably had about 100 music shows. Most of them are themed shows, like 60s or 70s or 80s, or Yacht Rock, or whatever we can think of. We like to dress up, and so do our friends."
Mark continues, "We can fit about 60 people in the house listening to the music, but between our big front porch and our back deck and the pool area out back, it's not unusual to host 80 or so. People say the house feels like an old friend, it's comfortable and low key. Musicians love playing here, the vibe is so intimate and warm."
"Our very first musical talent was Daryl Hewitt," says Julie. "We'd met him in Madison at the old Riverhouse Bar and started talking about him coming to Big Blue to play. He's played many times since then, too many to count. Daryl is kind of our house band, you might say.
"We've also featured Anthony Ray Wright and the Girton boys a lot, they are from Vevay. Michael Kruse is a regular, and Kathy Holcomb. Joe and Heidi DeVito, who go by the name Glad Janice, debuted their act here. But probably our biggest name we've had is guitar legend Tyler Mac. He's from Pendleton, Indiana, but he lives in Pensacola these days."
"Obviously this is not a for-profit enterprise," interjects Mark. "We do it for the love of music and to help energize the town. Everybody pitches in to pay the band, and it all works out. But it's worth every penny. Just seeing the collaboration and the jams that can develop. Seeing such talented musicians having a great time and engaging with the audience. It's something we love doing and we're committed to it."
"Other people in Vevay have discovered that it's possible to bring live music into your home," says Julie. "And I would say the same thing to our many Madison friends, too. It doesn't have to be super expensive or complicated. Just hire a local musician or band, Madison sure has plenty to choose from, and invite your friends over for a party. Nothing is more fun or rewarding!"
HOT TIP OF THE WEEK
It's finally getting warm enough to get up off your COVID Couch and start getting out there to see live music in Madison! The three main downtown music venues are all back online (Thomas Family, The Taproom, and Mad Paddle) with consistent weekend music, and the other venues like The Broadway, Riverboat Inn and soon The Lighthouse will be kicking in too. The great thing about most of these venues is they have outdoor seating options as it gets warmer, so even though COVID should still be a caution when it comes to indoor activities, you can sit out in the open air and start living the music life again! I'll see you out there, supporting Indiana's Music City.
Charlie Rohlfing is a retired advertising man and partner in The Red Bicycle Hall music venue. Look for his distinctive fedora bobbing above the crowd, anywhere live local music is happening.
This Week in Music
Thursday, April 1
Mad Paddle Brewery — Tracy & Elaine
Elks Lodge — Leah Pruett
Friday, April 2
Mad Paddle Brewery — Brother John Kattke
Off-Broadway Taproom — Matt Moore
Saturday, April 3
Mad Paddle Brewery — Jay & Those Other Guys
Thomas Family Winery — Matt Stokes
Off-Broadway Taproom — Charlsee Gandee