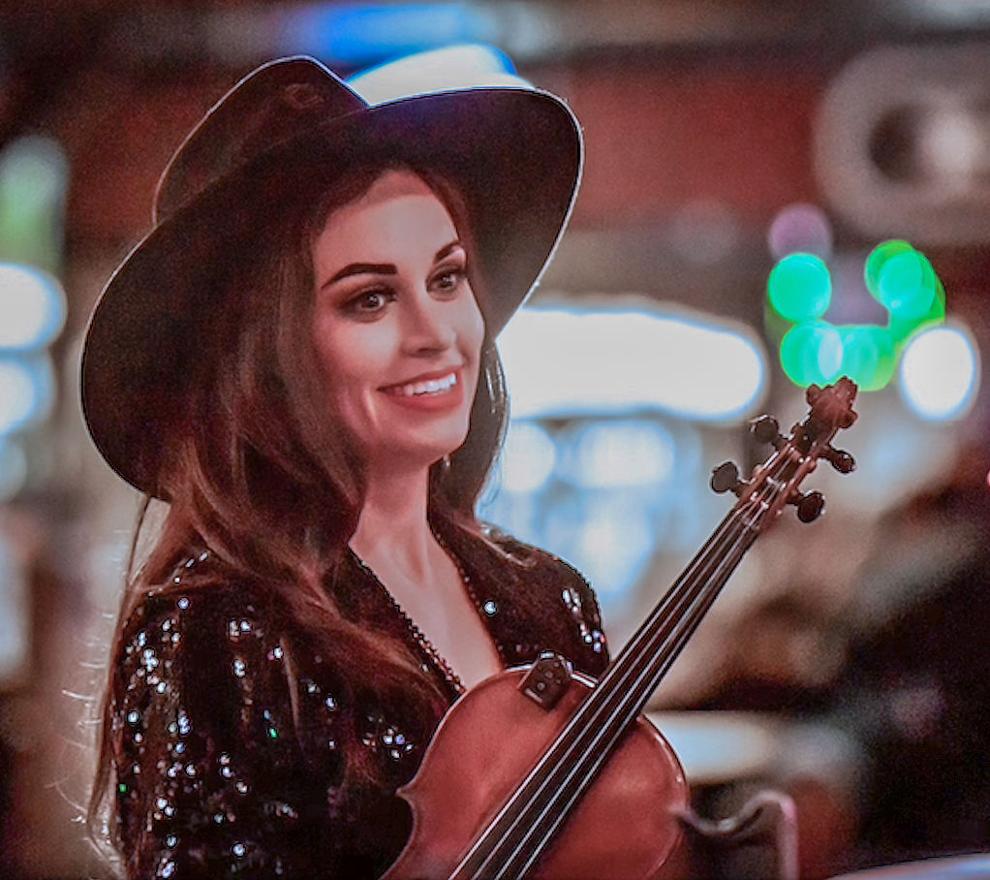 This column is a kind of instant flashback, reverse chronology story. If you went to the House Band show at Mad Paddle Brewery last Saturday you saw the amazing musicianship and energy of fiddle player Corrina Wills. Now, after the fact, you can learn her story.
First of all, she is not related to the late-great Texas swing legend Bob Wills. Her real name is Rozlyn Turner.
"Bob Wills is just my all-time idol and he played my absolute favorite style of music. One of his most iconic songs was a tune called 'Corrine Corrina' and I just took my stage name, Corrina Wills, from that," she said.
"I'm a Hoosier girl, born in Bedford and then spent some time around Bloomington. For the last eight years or so I've been living up the road in Greensburg. But I mostly play with bands up in Indianapolis. I play with the Wyatt Massingille Band, Christine Kindred, and Payton Collier a lot.
"My career as a fiddler started somewhat by accident. I started playing classical violin in the sixth grade in school orchestras, but when I was 16 I won a contest and I was interviewed in the local newspaper. I said something about how I loved the country fiddle sound, and that I'd like to play in a band someday.
"Some Bluegrass players saw the article and took it to mean that I was looking to join a band right then. Well, I'd never played a lick of Bluegrass, but next thing I know I was pulled into all these Bluegrass jam sessions and learning from these great players. By the time I was 18 I was playing fiddle in country bands. Like they say, be careful what you wish for!
"Anyway, more recently I've gotten several gigs down here in Madison, and I really love it here. I played with Hank Haggard at Mad Paddle back before COVID, then I did a St. Patty's show with Rusty Bladen, and then I got the chance to do a guest appearance with the Mad Paddle House Band.
"It was Jerry Wade's idea (owner of Mad Paddle) to bring me in for a guest appearance. He's always adding new songs to their playlist, and he had a few songs that really need a fiddle, like Paper and Fire by John Mellancamp. And then they told me to learn Kashmir by Led Zeppelin, which I have to admit, as a country girl, I'd never even heard before.
"The whole experience has been incredible. When you team up with a new group of musicians, you honestly never know what to expect. But that group of guys is incredible. It's been a real treat for me working with them.
"The House Band experience is exactly the kind of thing I'm looking for right now. I just quit my day job and I'm making a go as a full-time musician. I've been spending a lot of hours each day practicing and improving, because if this is going to be my life, I want to be the best that I can be.
"The challenge of working with a bunch of top level musicians like Joe and Tom and Danny and Kerry and Deano the rest, that's the kind of experience that can really elevate your playing and make you better.
"I'm super happy Jerry reached out to me and gave me this opportunity, and I hope to play in Madison many more times in the future."
HOT TIP OF THE WEEK
We got some two-fers going on this weekend. On Friday you can see Jhonny & Sallie at Lytle Park at 11:30 a.m. playing Live Lunch, and then catch them again in the evening at Mad Paddle. Then on Saturday Eric Bolander will be playing an early songwriter showcase at House of Jane, and then he'll stroll across the street and do a full show at The Taproom. The other show of particular note this weekend is at Red Bicycle Hall, where Layla Tucker (daughter of country legend Tanya Tucker) takes the stage with songwriting legend Billy Don Burns. If you like real country, this is the show for you.
Charlie Rohlfing is a retired advertising man and partner in The Red Bicycle Hall music venue. Look for his distinctive fedora bobbing above the crowd, anywhere live local music is happening.
This Week in Music
Thursday, May 27
Elks Lodge — (will have music)
Mad Paddle Brewery — The Mens Room
Friday, May 28
Lytle Park — Live Lunch with Jhonny & Sallie (11:30 a.m.)
Off-Broadway Taproom — Robby Cox
Mad Paddle Brewery — Jhonny & Sallie
Thomas Family Winery — Mel Deal & Rob Houze
Saturday, May 29
House of Jane — Charlsee Gandee & Eric Bolander
Lighthouse — Jimmy Davis
Mad Paddle Brewery — Grace Scott Band
Off-Broadway Taproom — Eric Bolander
Red Bicycle Hall — Layla Tucker with Billy Don Burns
Hanover Park — Matthew Williams, Frank Pearson & Friends and Short & Company (6 p.m.)
Sunday, May 30
Mad Paddle Brewery — Rusty Bladen on the Patio