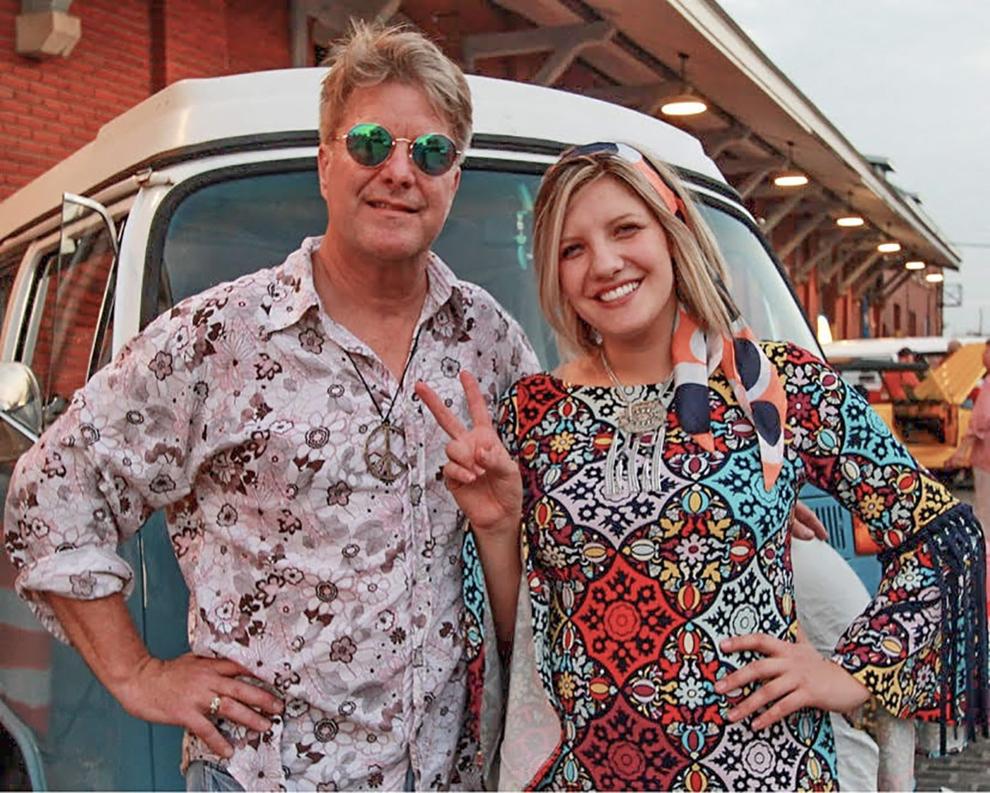 "First of all, our names aren't really Johnny and Sallie," explains Catherine Evans. "My husband (Brent Evans) wrote a song called The Ballad of Johnny & Sallie, and just for fun he introduced us on the stage that way one night. People seemed to respond to it, so we played along."
"Sometime later I was trying to book a gig," Brent explains, picking up the story, "and this venue owner says to me, we don't want Brent and Catherine, we want Johnny and Sallie! Who am I to argue? I told them Johnny and Sallie you shall have!"
Brent and Catherine Evans are an experienced and well-established musical duo out of Rochester, Indiana, a small town about two hours north of Indy. Catherine has an ice cream business called "Sallie's By The Shore" that she runs out of a converted 1953 Vagabond travel trailer, and Brent owns a recording studio.
So why are we doing a story about some out of town musicians in Madison's music column? Because Johnny & Sallie (Brent & Catherine) are moving to town about a month from now. We're getting two great musicians, a recording studio and an ice cream shop all in one fortuitous fell swoop.
"We played the Swiss Wine Festival in Vevay some years back," explains Catherine. "And after we were done we wandered down the river to explore Madison. It's fair to say it was love at first sight. And the more we learned about the town, the more we liked. It fits our lifestyle, it has the emphasis on arts and music. It's a perfect fit for us.
"We also have three pre-school children, and we want to raise them around music and a vibrant community rich in history. We're closing on a downtown home in early March, and looking forward to our kids going to Lydia Middleton.
"Everybody we've met so far has been super supportive and friendly. Todd Boone has filled us in about the music scene. Brian Martin is helping us with the permit process so we can move our ice cream business here. And Jerry Wade at Mad Paddle has already booked us for some shows.
In addition to the ice cream business, Brent will be bringing his studio equipment to town. "I'm not sure how or when it will work out," says Brent, "but I hope to get that up and running eventually in Madison. I can record other musicians, of course, but I also use it to record my own original songs. I usually play all the instruments and end up with very complete versions of my songs."
"Our very first show is at Mad Paddle on March 5, which will be just a few days after we move here," says Catherine. "We're going to do our variety show that night, covering a wide range of styles and decades. Songs by Helen Reddy, Journey, Heart, Tiny Tim, The Eagles, Dolly Parton and even Led Zeppelin.
"Then on Saturday the 6th at Mad Paddle we have a show we call our 'Hip Trip Thru The Sixties.' It's everything from folk to psychedelic, like Jefferson Airplane, The Beatles, The Who, Mommas and the Papas and a bunch more.
"Brent plays guitar and keyboards, and I play guitar and mandolin. We use some backing tracks on some of the songs, so the sound is very full and fun. We hope everybody comes out that weekend so we can meet our new neighbors and share our music with Madison."
HOT TIP OF THE WEEK
Thomas Family Winery is back in the swing of live music, and they have a great show kicking things off Saturday night. One of this column's favorite talents, Anthony Ray Wright, has a brand new album release and he'll be playing sweet new original cuts from the record. If you haven't heard Anthony, his style is equal parts classic Texas swing, Hank Williams country, and Chris Issaac charisma. Get on out to Thomas Family on Saturday and celebrate great live music. Mad Paddle also has a full Thursday through Saturday line up, as usual. And keep a sharp eye on Off-Broadway Taproom, they're slipping live music in there quite often lately.
This Week in Music
Thursday, February 4
Mad Paddle Brewery — Matthew Williams
Friday, February 5
Mad Paddle Brewery — Brett Stafford Smith
Saturday, February 6
Mad Paddle Brewery — Broken Spokes
Thomas Family Winery — Anthony Ray Wright (Album Release)