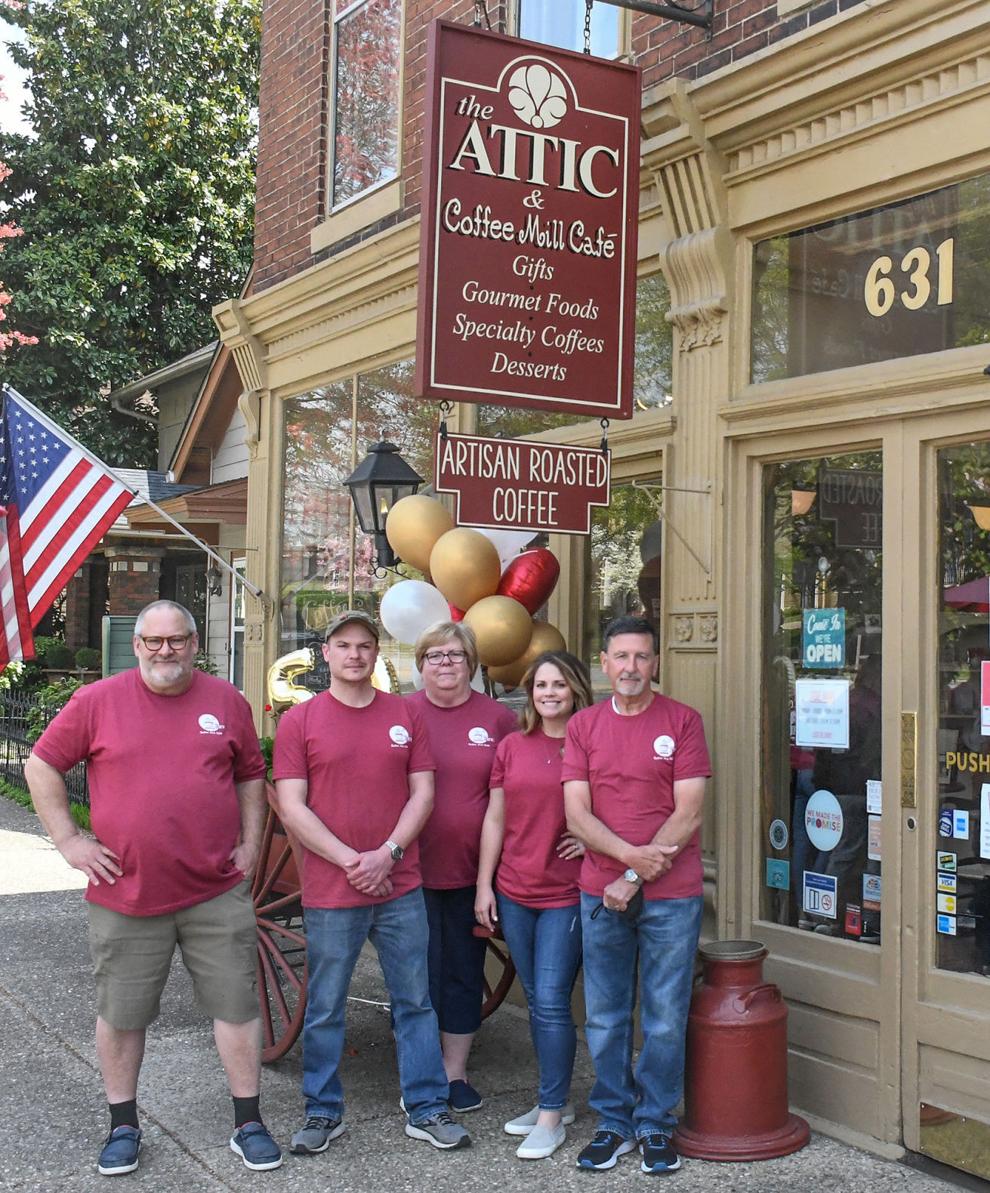 When R.B. and Irene List opened their business at 631 West Main Street in downtown Madison, they decided to call it the Attic "because you don't know what you will find in the attic, and they were selling a little bit of everything," said Julie Truax, the current operator of the business along with Chip George and Brent Warren.
The Attic, now in its fourth generation of family operation, Tuesday celebrated the 50th anniversary of its opening on April 20, 1971. The milestone also signaled a transition for the Attic as Truax and George, grandchildren of the Lists, and great grandchild Warren, are selling the business to a new family, Megan and Brandon Hicks and Megan's parents, Norm and RoseMarie Roberts, all of Madison.
Truax said family members are selling the business because they feel it's time for them to move on.
"We aren't selling the business because we have to. I am ready to retire," she said, noting that George and Warren both have other interests to pursue and she just wants some time to enjoy retirement. "With mom, when she was done, I was done."
Four months after the Lists opened the business in 1971, their daughter Judy George and her husband, Phil, moved from Texas to Madison in August and took over the business. Previously a housewife, Judy George quickly became the face of the Attic, working long hours and greeting every customer and person who came into the store.
"When my parents moved to Madison, my mother didn't work and she hadn't had any training in running a business. A lot of things she had to learn life lessons right in the store," Truax said, noting her parents still developed a successful business.
Judy George continued to operate the business after Phil died on Feb. 21, 2010, and was actively involved right up to her death at age 85 on Sept. 7, 2020. "Even though she was not physically able to do as much the last couple of years, she was still very involved," Truax noted.
Truax operated the business alongside her mother for many of the 50 years, a connection that went beyond that of mother and daughter.
"She and I could communicate without talking with each other," said Truax, noting they just had a way of working together and knowing what needed to be done.
Prior to becoming the Attic in 1971, the two-story 1860 structure had been a grocery for many years. Thomas P. Vincent and his wife, Lottie, opened Vincent's Grocery in 1925, and stayed in business for the next 45 years. Before that the structure served as Miller's Grocery for several years.
The building has retained many of its historic features with cast iron that was added in 1901, and original store fixtures and shelves remain. Before the Lists purchased the building, there were four apartments in the building and when Phil and Judy George came to Madison, they moved into the upstairs.
"This whole building was home," said Truax. "We lived and worked in the same building."
One of the downstairs areas that had also been an apartment was repurposed, most recently as a kitchen.
Although the building saw little change, the business evolved over the years. In the early years, they sold unique gifts and crafts, and offered picture framing and collectible prints. At various times, a room back behind the two front rooms has been used in various ways. For awhile, it had art and craft supplies with classes sometimes held there. Another time, it became a candle room and for a time it had Christmas items year-round.
With the expansion of Madison's tourism industry, the room then became extra space for dining customers when the Coffee Mill Cafe was added in 1993 and the store began selling food and coffee made from beans roasted on site.
Truax said the business needed to evolve. "That's the sort of thing we had to do to keep going," she said. "When my grandparents bought this building in 1971, tourism was not part of what was going on in Madison. They opened to support the community."
However, as tourism eventually became a greater focus, the Attic began to shift while still maintaining elements from its early years.
"We have always carried gourmet foods," Truax said, noting that Cherchies Champagne Mustard has been on the Attic shelves for decades, and they're still selling it. "My Dad bought it somewhere and loved it, and we started carrying it in the store."
Truax most of all is appreciative of how the community has supported the Attic over the last 50 years — especially through the passing of her mother and months of dealing with a virus pandemic.
"In the past year, we have realized how much this community supports us. We're a little 'Mom and Pop" store, but with COVID, we could not have made it without the community support," she said noting that even when they couldn't have dine-in customers, the community continued to support the business with curbside pickup, special orders and deliveries.
Truax is happy that the new ownership will keep the Attic going and echoed a remark made by her brother, Chip, that "they are just the perfect family to take on the Attic."
The Hicks and Roberts are local residents who are familiar with the community and the Attic. The new owners will take over on May 27 when the Attic will be closed for a few days and then reopen on June 1.
"I am really excited. I have loved the Attic for a long time," Megan Hicks said.
She said her plans for the future are for the shop to continue to be the place that the community has loved the last 50 years.