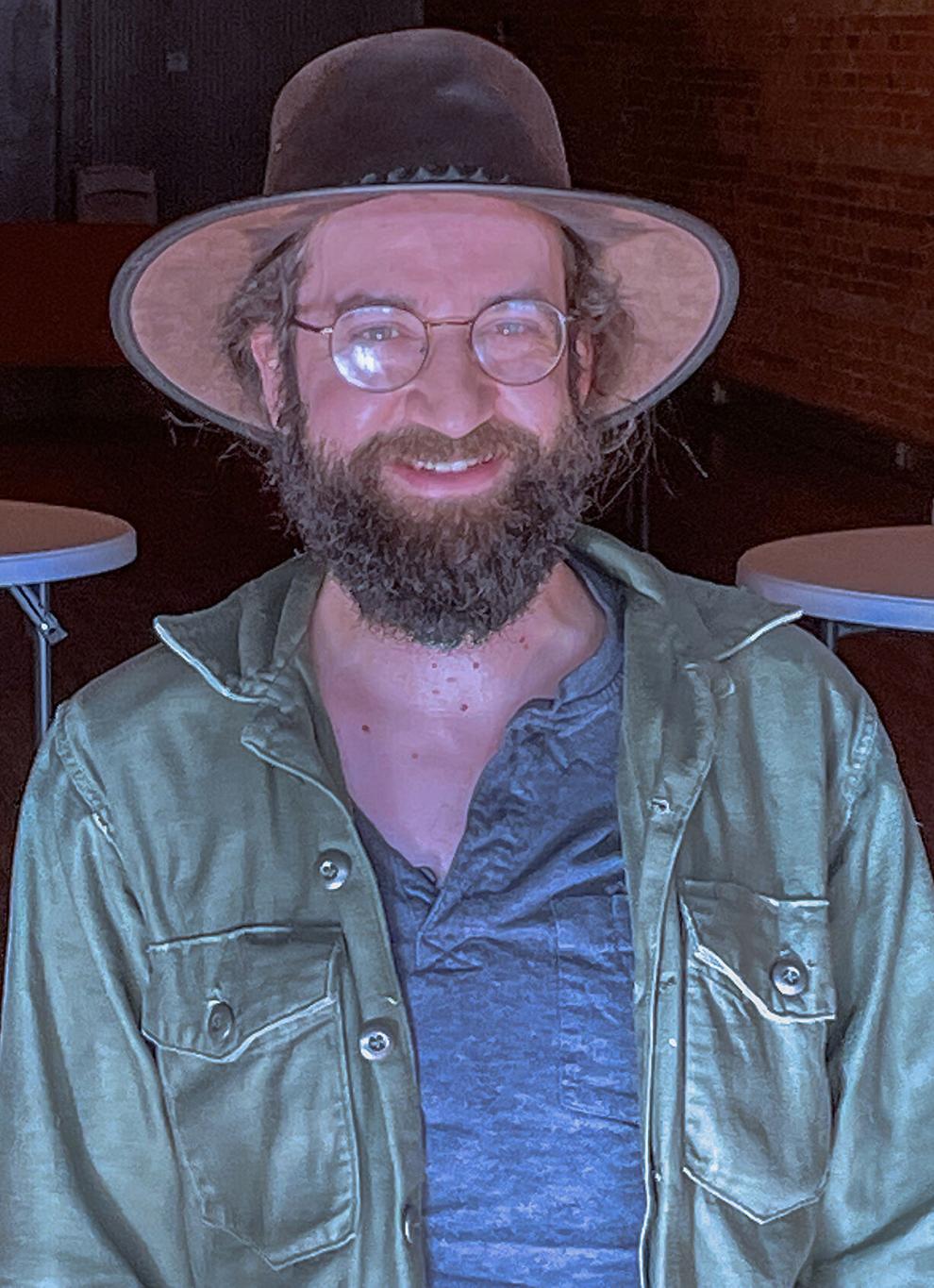 If I had to use all 10 of my fingers, and take off my shoes and use my toes, I'd still probably not have enough digits to tally the number of interesting people I've met sharing a table at Thomas Family Winery. As things get crowded and cozy at the Winery, owner Steve Thomas tends to mix and match couples at the various tables, and it's part of the magic of the Thomas Family experience.
A couple of weekends ago we were at the Winery to enjoy Obscure Neil Young night, and a young lady across the table from me recognized me (from my newspaper photo?) and said "You're the reason we are here tonight! You said in your article that Neil Young night was a must see, so here we are."
That young woman turned out to be Ericka Wilson, sitting with her husband, Jared. Ericka was born in Madison and has roots in this area, but she moved away after school. She ended up in Cincinnati where she met and married Jared, and then the pandemic hit.
"We were just ready for a change," explains Ericka. "Ready to slow down a bit. We found a homestead place out around Smyrna here in Jefferson County, and we moved here about a year ago." Ericka works as a freelance writer and Jared works for Enviroscape Landscaping.
At this point in the conversation, as we listened to one great Neil Young song after another, Ericka volunteered, "Jared is an accomplished musician himself. He writes music and sings and plays bass. Show them your thumbs, honey!"
Now at this point in the story we need to digress and explain that bass players exert a tremendous amount of pressure with their left hand, pressing the fat bass strings down against the fretboard. They must position their thumbs behind the neck of the bass to generate enough squeeze power. As a result, many bass player's thumbs become permanently bent back, almost at 90 degrees.
Jared dutifully held up his two thumbs, and sure enough, the left one bent back way further than the right. "I need to do a story about you!" I declared, then and there.
Turns out Jared grew up not too far away in Jasper, Indiana, in a musical family, with musical brothers. "My brothers and I had a band in high school," explains Jared, "One brother on guitar, the other on drums, and me on bass. We played the talent shows, the local Holiday Inn, the usual places. It was kind of a pop-punk sound.
"Eventually, after a stint at Indiana State and some bumming around, I met this drummer out of Bloomington and we started a band called "Wringer." Still the pop-punk genre. We toured hard for about three years, New York, Boston, Texas, Florida, on out west.
"You have to understand, before I joined this band I'd barely been out of Indiana. We were doing seven shows a week, all over the country.
Even some into Canada and Mexico. It got me traveling and seeing the world. But things unravel over time and the band broke up.
"I ended up in Cincinnati playing in a bunch of different bands. That's when I met Ericka. I got a job in landscaping and things kind of settled down. Then we moved to Madison about a year ago.
"Honestly, I've been pretty much full time fixing up our new house, getting it livable. But the truth is, I'm starting to get the music bug again. I'm settled in and ready to feel that energy of collaborating and performing. If anybody knows somebody who needs an experienced bass player …"
Hot Tip of the Week
Red Bicycle Hall is in action both days this weekend, with Matt Red Moore and Jordan Wilson laying down the groove on Friday, and a spellbinding Johnny Cash & June Carter tribute show on Saturday. As of this writing, there are still tickets for both shows, but they will both likely sell out so act now if you want to go. RedBicycleHall.com.
Under the heading "Country singers can never have too many names" you should get over to the Taproom on Saturday to see Tyler Lance Walker Gill. Not Tyler Lance & Walker Gill, just the one dude and his band. And finally, if you've never been to a House of Jane Songwriter session, tonight, this Thursday, is your chance. It's going to be a good one!
Charlie Rohlfing is a retired advertising man and partner in The Red Bicycle Hall music venue. Look for his distinctive fedora bobbing above the crowd, anywhere live local music is happening.
This Week in Music
Thursday, Feb. 16
House of Jane — Cary Shields & Danny Flanigan
Rivertown Grill — DJ Dance Party
Friday, Feb. 17
Rivertown Grill — The Switch, w/Meaux Swafford
Red Bicycle Hall — Matt Red Moore w/Jordan Wilson
Brown Gym — Old School (Senior Citizens Dance 6:30 p.m.)
Saturday, Feb. 18
Rivertown Grill — Crossfire
Off Broadway Taproom — Tyler Lance Walker Gill
Red Bicycle Hall — A.R. Cash
The Central — Lickety Split
Thomas Family Winery — Celtica Ray Fae RenFaire Band
Sunday, Feb. 19
Rivertown Grill — Reuben Guthrie
Tuesday, Feb. 21
Off-Broadway Taproom — Open Mic Night
Wednesday, Feb 22
Rivertown Grill — Karaoke