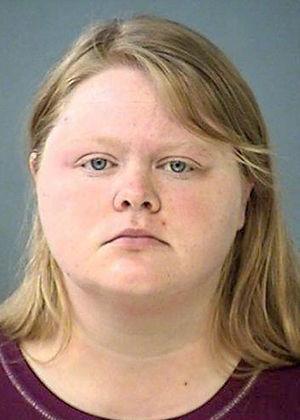 A former Madison Correctional Facility officer who is charged with two counts of murder and one count of attempted murder in Indianapolis is now scheduled to stand trial by jury in Marion County Superior Court on Monday, May 10, 2021.
Kristen L. Wolf, 29, of Madison, could face death or a prison sentence between 45 and 65 years on each of the murder charges and 20-40 years in prison on the attempted murder charge, which is a Level 1 felony. She is also charged with battery by means of a deadly weapon, a Level 5 felony punishable by one to six years in prison.
She has been incarcerated in the Marion County Jail since her arrest on May 22. Wolf was originally scheduled to stand trial on Oct. 5 but that date was pushed back to Dec. 28 and later postponed to May 10, 2021, after the COVID-19 pandemic shut down jury trials statewide.
Wolf is accused of stabbing to death Victoria Cook and Dylan Dickover at an apartment in the 5600 block of Portsmouth Avenue shortly after 8 p.m. on May 11, 2020. Cook, 24, was pronounced dead at the scene while Dickover, 28, died later at Eskenazi Hospital in Indianapolis. A third stabbing victim, Cook's roommate Elizabeth McHugh, was wounded and transported to Eskenazi Hospital where she was treated for her wounds and survived.
According to Indianapolis Metropolitan Police, a witness who was Cook's roommate, said Wolf stabbed Cook after she answered a knock on the door of their apartment. Dickover tried to stop the attack but was stabbed in the leg, severing a major artery.
In an interview with police at Eskenazi, McHugh said there was a "commotion" at the door and a woman in "some kind of uniform" came into the living room dressed in black pants, a shirt with patches on it and a black knit hat. She said the woman was holding a knife in her right hand when she came at her and started stabbing her in the neck.
McHugh said Dickover tried to stop the woman by grabbing her from behind, but the woman turned the knife on him and began stabbing him over her shoulder, according to an affidavit by IMPD Officer Caleb Melloh.
When police asked the roommate who might want to harm them, she said that she and Cook had broken ties with a "violent" man who Cook had been dating. She added that he had been "teaching them to kill with knives and axes."
"She said that he trains women to kill," Melloh wrote in the affidavit.
A neighbor identified the man that Cook purportedly had dated as Wolf's current boyfriend, according to the affidavit.
After the attack, the suspect left a hat behind at the scene with an Indiana Department of Correction patch on it and a tag with the name "Wolf," the affidavit said.
An internal affairs investigator with the IDOC matched the description of the suspect with the last name "Wolf" and found Kristen Wolf, according to the affidavit. Police then tracked down Wolf in Madison where she worked for the local state corrections unit.
Police picked up Wolf from her job at the Madison Correctional Facility on May 22, but she denied being in Indianapolis on May 11. A search of Wolf's Madison residence on May 22 found several "combat style knives" and uniforms with patches identical to the patch on the hat found at the crime scene.
Wolf, a 2009 graduate of Southwestern, had worked at Madison Correctional Facility from February 2014 until May 22, when she was "terminated based on allegations of criminal actions" being investigated by IMPD.
Police also found on her bedroom nightstand a two-page note in which Wolf had written about what it would be like to kill someone and how she took inspiration from serial killers. Authorities said Wolf also wrote that she did not want to kill anyone she knew and that she was planning to die but was prepared for it. Police said Wolf had also attached to the note a will she signed on May 11.
Wolf was arrested and transported to Indianapolis where she is being held without bail. The probable cause affidavit was filed on May 28 and an initial hearing was held by video conference on May 29.
Authorities said Wolf's coworkers told them she had said that her boyfriend was sending her messages about killing people, that she was becoming more paranoid and that she cleaned the inside of her car and then inspected it with a black light.