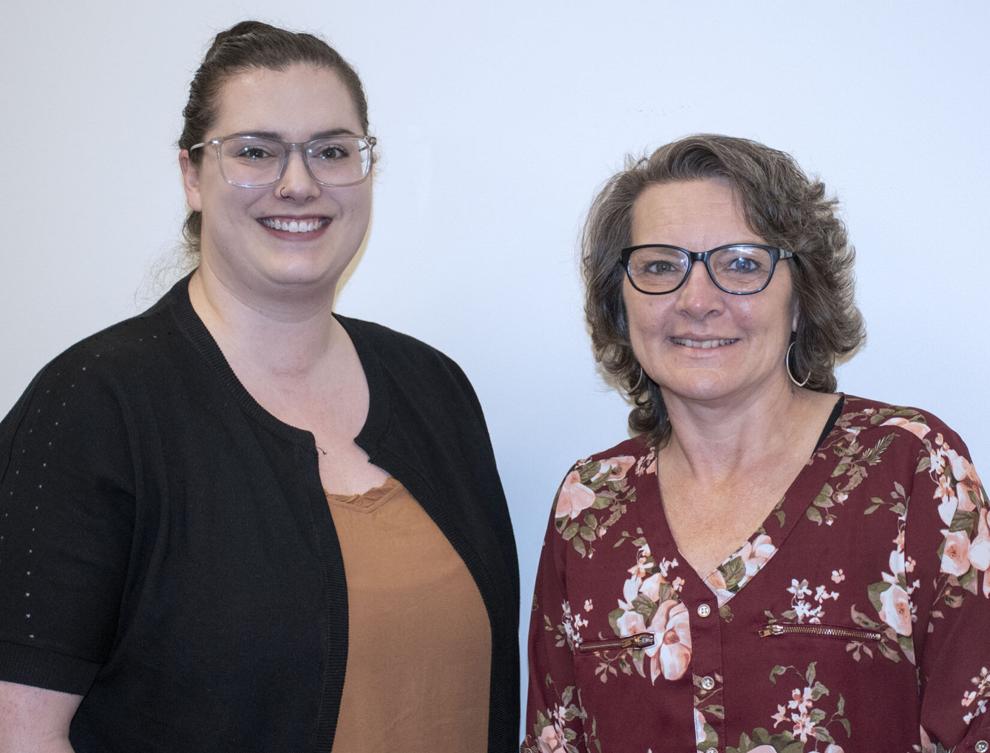 Tammy Monroe has worked at the Jefferson County Health Department 22 years — the last 10 as the County Health Administrator and the final two of that during a worldwide pandemic — but last Friday was her last day as she retired with Lindsey Wyne taking over the position Monday.
"I have loved working at the health department and serving Jefferson County," said Monroe, but now she wants to retire and devote more time to her family. "I am going to miss working with the public" but the health department will be in good hands with Wyne as administrator and a good staff in place to continue the agency's work.
"I think Lindsey is going to do a great job," said Monroe. "She's got a great personality. I like to think we have got things in enough order that it hopefully will be an easy transition. She has good experience and I think she'll do a fine job. I wish her nothing but the best, and I've told her, and told the board members, I'm always a phone call way. It's not like I'm moving away. Public health will always be near and dear to my heart, and I will still be cheering public health from the sidelines, so I am always willing to help."
Wyne, a lifelong Jefferson County resident, grew up in Saluda Township, graduated from Southwestern High School and now owns a home in Hanover. After earning a bachelor's degree in business management from Indiana University Southeast, she worked at Walgreens as an assistant manager and pharmacy tech, and then the last 8-1/2 years as an administrative assistant at LG&E's Trimble County generating station at Wise's Landing. At LG&E, she performed several different functions from office tasks to overseeing safety matters and working with human resources and more.
Wyne is thrilled to have the opportunity to serve as the county's health administrator. "I like helping and being involved in things going on, and I'm happy to have the opportunity to work in the county I grew up in a role that gets to help people. That definitely has made me excited about the opportunity," she said.
At the same time, Wyne said replacing Monroe involves "some big shoes to fill" considering Monroe's experience and knowledge of the county healthy department.
Meanwhile, Monroe said she's looking forward to being able "to spend more time with my younger girls" when she retires — Audrey, 13, and Tootsie, 4, along with being a grandmother since her daughter, Chelsi, 32, has a girl on the way. "It was just time for me to spend more time with them and help get them raised and enjoy being a Grandma," said Monroe, who has been married to her husband, Scott, for 36 years.
As Monroe departs the health department, she feels good about her work there over the years. "When I started I never envisioned that I would one day be the administrator," she said.
She began working at the health department as the receptionist then moved into the billing department and served in the home healh division before becoming assistant administrator and finally administrator.
A Madison Consolidated High School graduate, Monroe has lived all her life in Jefferson County, working earlier in doctor's offices — first for Dr. Schirmer Riley at the Madison Clinic and later for Dr. Paul Cronen and Dr. Leon Michl.
"Dr. Riley and I had a long history," noting that he was the county health officer when she first came to work at the health department. "He delivered me (as a baby), I worked for him at the clinic and I worked for him here" at the health department.
Monroe said while her medical background was an asset when she began working for the health department, "there was still a lot to learn when I came here because public health encompasses so many other things." She noted the job also includes food safety, environmental safety, recording vital county records, nursing and much more.
"I knew a lot because of immunizations, communicable disease because you deal with those things in doctor's offices as well, but that's not the only thing public health involves," she said. "A lot people don't realize all the things the health department does until you come here to work and just discover so much more."
Monroe took over as county health administrator at a time of turmoil after Ralph Armand, who had served as the county health administrator for 29 years, was dismissed from the position.
"I feel that was one of my biggest accomplishments in getting over that hurdle and gaining the confidence again of the public," Monroe said. "I've always liked working with the public and helping people so I feel like I've helped the health department along with all the staff that is here currently that we got over that and regained that confidence."
Another aspect of running the helath department is preparing and staying within a budget and providing taxpayers the best value for their dollars. " I always took pride of being able to operate the health department within our budget, and being a good steward of taxpayer money when it came to the health department," said said.
Monroe said "going through COVID" the last couple of years has been a big challenge to work through in itself and she's proud of the work done by the county health department staff — work that continue long after she retires.
"We're still dealing with it," she said, noting that while local cases are currently low, Indiana Department of Health officials are indicating that COVID-19 is "something that we will continue to go through" and "we need to stay on our toes."
For all that's been achieved at the health department during her tenure, Monroe said, "I always want to take the opportunity to brag on the staff because the staff is what makes this job enjoyable and easy because they all do an amazing job."