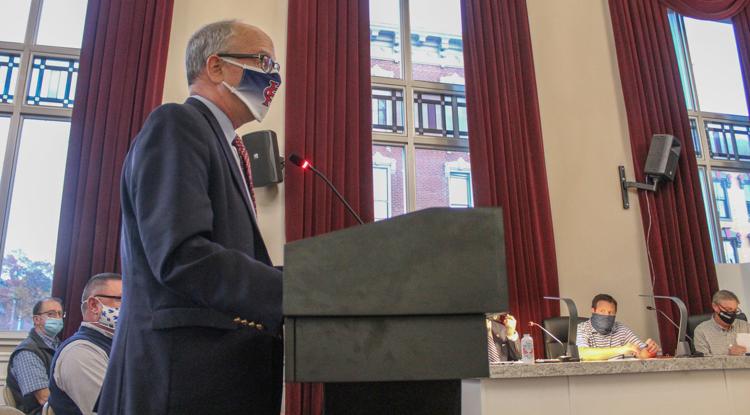 A discussion over the alleged harassment of students from participants of an Oct. 24 Trump parade through Hanover College went on for about 45 minutes at Wednesday night's Madison City Council meeting.
A debate over what really happened that Sunday has ensued after a professor posted to Facebook student reports of people in the parade were "spitting at students, pulling up signs, and telling a student of color to 'go back where they came from.' "
Hanover College President Lake Lambert III sent out an email to the campus community that week mentioning three different reports of harassment that students reported to Campus Safety. Organizers did not notify the college before taking the 120-plus-car convoy through campus, he said.
He sent another email to organizers of the parade, saying one Latinx student reported being told to "go back where he came from," another male student said he was called a homophobic slur and a female student said she was called a "Trump-hating bitch," organizer Greg Sanders said.
Lambert appeared before City Council Wednesday night to voice his concerns over the incident and the precedent it sets for the community.
He said that while he and his family were welcomed into the community when he came to Hanover, these incidents, unless denounced, create an "echo chamber" that project voices of divisiveness.
Lambert said he had already met with representatives from the Madison Area Chamber of Commerce and human resources departments from area companies who said they knew of employees or other people with similar experiences in Jefferson County.
He added that while some may have seen it as an isolated incident, for visitors or newcomers who encounter such situations, that is their experience with the community and they would have no idea whether that view was shared widely with the community or if it truly was a one-off incident.
"The only way that we can communicate that it is not is as leaders of this community, more forcefully communicating that that is not who we are, that we do not agree with that behavior, that we are a welcoming community, and that we welcome all people from all walks of life from all different groups," Lambert said. "That's my hope that as a community we can move forward with.
"It's something that Hanover College needs and wants. It is imperative that that is the message this community sends. I need that message to be communicated loud, repeatedly and clearly so that I can continue to recruit the best students from across the country and around the world."
Mayor Bob Courtney responded by saying the city already had processes in place to handle such incidents, namely the Humans Relations Commission (HRC) that has been around since the Civil Rights Movement of the 1960s and has had a "steady hand" through tumultuous times in local and national history he said.
Courtney added that the city had also reaffirmed its resolution on anti-discrimination and the protection of diverse individuals on June 3. He noted that no complaints of the Hanover incident were received by the HRC and asked that when there are allegations and complaints, they should be vetted through the right leadership channels.
He also pointed to the dangers of social media in inflaming the situation, creating even more divisiveness and pitting people of different opinions against each other. Courtney said he hoped the college held its staff to the same code of conduct.
Regarding the HRC, however, Lambert said that he had attended the past couple meetings, where members said they were concerned about the degree of power the commission actually has and the actions they can take.
Courtney admitted there was probably work to be done on getting the right members on the commission and letting the community know there was infrastructure for handling those kinds of complaints.
City Clerk-Treasurer Rick Berry, who helped organize the parade with the Sons and Daughters of Liberty, said the nature of the accusation on social media bothered him.
Berry said the professor who first posted about the alleged incidents would not bring the students with her to meet with Berry out of wanting to protect them, but when Berry offered to meet with her after students gave her information she could present as evidence, the professor told him it was not her responsibility to come up with evidence; rather, it was his job to prove it didn't happen. She took down the entire social media post down shortly thereafter, Berry said.
After Berry asked Lambert what evidence he had of the incident, Lambert said he had statements from students to the director of Campus Safety and that Safety had reviewed surveillance video and found evidence showing that the alignment of cars and timing matched student descriptions in at least two of the cases. However, he said there was no audio or high enough resolution to read lips and the students apparently did not video the incident on their mobile devices, he said.
The accusations combined with a lack of evidence frustrated Berry.
"I've been in two Trump parades and I've been to a Trump rally, and they're made up of the most patriotic people you'll ever meet in your life — grandmothers, grandfathers, mothers, fathers, kids, young people — they are a celebration of our country and they are a celebration of our president," he said.
Berry then referenced "relentless attacks on our president, non-stop with no evidence," like impeachment and the Special Counsel investigation into the 2016 election. He said the parade was Trump's supporters' outlet for showing pride in their country and president.
"This is all crazy. And I hate to see our young people get filled with these kinds of thoughts. Because we are a great country, and the people in these parades are great people. I talked to people in the front of the parade, in the middle of the parade and in the back of the parade — they've called me and none of them said they saw anything," Berry said.
At that point Courtney interrupted, noting that a polar political climate, identity politics and inability of people of different opinions to get along resulted in an escalated situation. He voiced a need for a path to resolving differences in non-hostile ways.
Berry then spoke more apologetically, noting college students had no reason to worry about coming to Madison.
"It breaks my heart to hear them say they're afraid to come into town, because there's nothing for them to be afraid of. We love when the college kids come to town and they're welcome everywhere as far as I can tell," Berry said.
Lambert concluded by saying guests were always welcome on Hanover's campus, but this scenario was a little different. He made an analogy to a neighbor's pond he used to fish from with his father as a child.
"The guy was really nice in letting us fish there — we never had to ask — but I didn't invite my church picnic there, I didn't bring my Boy Scout troop to camp there and I didn't bring my marching band to play there either," Lambert said.
During a public comment period, longtime Jefferson County resident and former Southwestern teacher Kettig Coghill said he resented the idea that the community was particularly racist. Coghill attended the parade and pointed out the lack of video evidence supporting any harassment as a suspicious hole in the allegations considering that camera phones have become so common.
"I taught high school for 30 years, folks, and students lie," Coghill said. "…The suggestion that Hanover College students should use a buddy system to go to Madison or Hanover also offends me … I support diversity in every way and I have found that that's true with most of the people I know … Do we have bigots? We've got some. Do we have some rednecks? We've got a few. We've got some racists. We can't control every individual."
Coghill then relayed some statistics to point out Hanover College's own lack of diversity.
Hanover senior and nontraditional student Katherine McCall also spoke. Having participated in the Hanover Trump parade and another in Cincinnati, she said the backlash had made her consider transferring schools, even with four classes left before graduation.
McCall, 32, said she received distressing texts and emails from students of color, some of whom she tutored and was close to, saying they supported her but worried about her returning to campus for her safety and mental health. She said she also received an email from a staff member she was close with, calling her and everyone in the procession a white nationalist.
"As someone who cut her teeth doing relief work in war-torn Africa in my 20s and later in the Middle East, and finally in China for three straight years with only one trip home, being called that is about the highest insult I could possibly conceive of," she said.
Greg Sanders, the organizer of the event, gave his reasoning for driving on campus. The purpose was to capture video of the procession going around the scenic overlook to send to the Trump campaign, he said. He also wanted to honor Vice President Mike Pence's alma mater.
Sanders publicly apologized to Lambert for the fallout from the parade and condemned any action of harassment, racism or intimidation if it happened.
"There is no place for that in our community — in our town, our county, the City of Madison — anywhere. And moving forward I want to be part of that, as [Mayor Courtney] spoke about, the bridge. Bridging the gap between those that feel intimidated and those of us that can help them feel welcome in this community," Sanders said.
Madison resident and Trump parade participant Rick Ruess also spoke and denied that there was any harassment. He addressed Lambert directly and noted that because of taxpayer-funded grants like 21st Century Scholars and Next Generation Hoosier scholarships, he also had equity in the property.
"As far as visiting your pond, that's partly my pond. I understand you're a private college, but we also have some equity in that as well … if you have video of something, show it. Because we were called liars because we asked about that … you have to be able to back it up and have the people to accuse you," Reuss said.
Council member Patrick Thevenow thanked the speakers for bringing the discussion forward.
"It's a difficult subject and it's a difficult conversation for us all to have, but one that is necessary as we work to build better bridges and there's always work to be done in our country and our city, and always work to be done to build a more perfect union," Thevenow said.
"I appreciate President Lambert taking the time to address the community at our recent city council meeting, as well as, everyone who also took time to share their perspectives on the matter of diversity. I hope it came across clearly that nobody has the moral high ground to accuse others of behavior they themselves might be tacitly endorsing and that hate, discrimination, intimidation, bias, racism, or bigotry has no place in our community," Courtney said later. "We all agreed there is work to do on this front and I pledge to do my part to work more closely with our Commission on Human Relations toward a more inclusive and diverse community for all and I believe President Lambert will do the same."