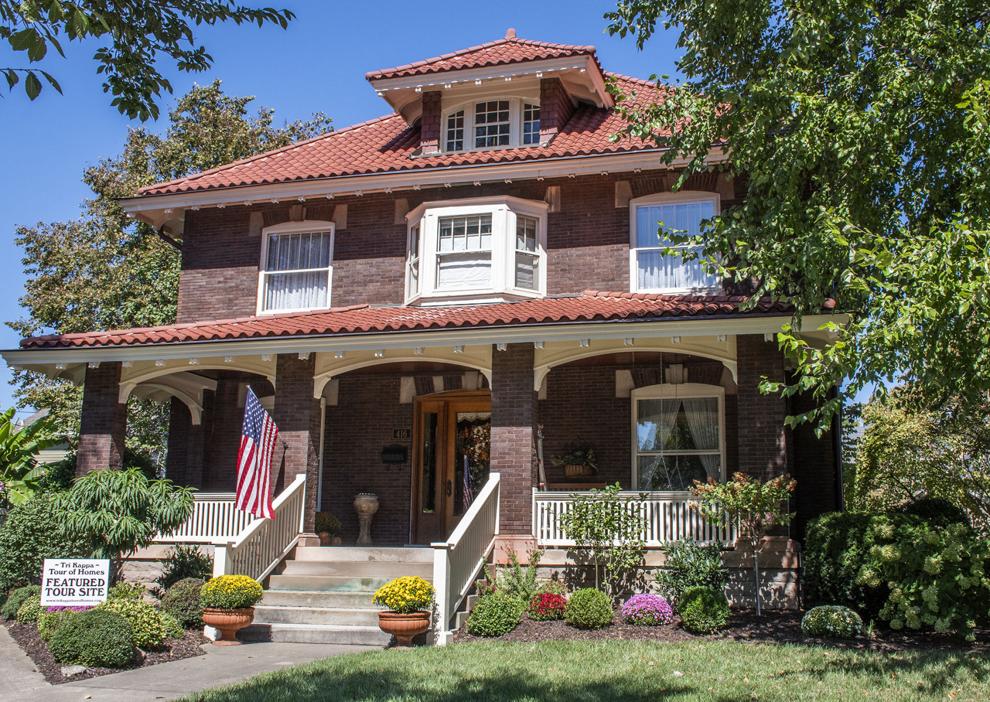 Eight of Madison's most beautiful and interesting homes will open their doors to visitors this weekend for the annual Tri Kappa Tour of Homes Friday, Saturday and Sunday.
"It's far more than just a tour of homes," said Nadja Boone, who co-chairs the tour with Dr. Kelli Hertz and Katie Grill. "It's really about growing and developing our community."
That's because all proceeds from the tour go to scholarships and local charities and beyond that, the tour provides even more economic benefit to the community.
"Every person that walks in one of our homes is also going to a restaurant to eat, or staying someplace here, or shopping in stores and little boutiques," she said.
In addition, there have been many instances where the tour has helped visitors discover the community, see some of what there is to offer and want to be a part of that.
"It's happened more than once, someone came on the tour, fell in love with Madison and moved here," Boone said. "And then bought their own home and renovated it."
This year's Tour of Homes was supposed to take place last year, but was postponed due to COVID-19. That's only served to build the anticipation for bopth the homeowners and patrons.
"We have beautiful historic homes, and many of these have been waiting awhile to show their homes," she said, noting homes in this year's tour were actually selected in 2019 in anticipation of the 2020 tour.
The Tour of Homes is typically held every other year in even years, and Boone said another Tour of Homes will be planned for next year to get the event back on schedule and keep it from conflicting with the Madison Main Street Loft Tour that happens on odd years including this year.
She said Tri Kappa checked with Madison Main Street before deciding to go ahead with a tour in 2021.
"I would never want to do anything to take away from them," said Boone. "We would have never had our tour if I had not talked to them about it, but they were fine with it. This brings a lot of people into town. I think they were happy, the more the better."
Boone said Tri Kappa will remain mindful of COVID-19 during this year's tour so patrons should expect some restrictions.
"We are taking a few extra precautions. We are going to ask people to wear a mask inside the home," she said, noting that hand sanitizer will also be provided.
At the same time, Boone said she thinks the Tour of Home is "a really safe event because people are out and about and walking," with it essentially being an outdoor event in where people travel together in groups.
Homes on this year's tour include:
Ohlendorf Home at 416 West Second Street — An Arts and Crafts Four-Square Home completed in 1907. Bill and Susan Ohlendorf purchased the home in 1988 and are the fourth owners. It has a clay tile roof in keeping with the style. The home displays the original staircase stained-glass window. There is quarter-sawn oak flooring and woodwork throughout the home.
Hanks Wade Home at 416 West Main Street — Owned by Glenna Hanks Wade, is an Italianate home built circa 1840 with a large addition to the home in 1860. It has a large 10-foot door that bridges several eras of architectural design. Original pine floors lead to an Italianate parlor that has 13-foot ceilings and 11-foot windows with tall shutters that fold completely into the window sills of the foot-thick walls.
Howard Home at 316 West Third Street — The Green Fountain Cottage was purchased in 2014 by Gregory and Shirley Howard, who did a complete remodel in 2015 with the original front door repurposed within the home. Boone said there were challenges in the renovation but it's now "cute as can be" with artwork from the Madison Chautauqua Festival of Art and décor from local antique shops.
Dr. William Hutchings Office and Museum at 120 West Third Street — This property, owned by Historic Madison Inc., continues the tradition of HMI including one of its properties on the tour. A rare, historic medical site where Dr. Hutchings practiced medicine until his death in 1903, the office is nearly identical to the day he closed the doors for the last time thanks to Lida Hutchings' photos and the preservation of her father's legacy.
McKee-Powell-White Home at 428 Mulberry Street — A federal-style home built by James McKee in 1832. Jerome and Belinda Vernon purchased the home in 2019 and began renovating to its original beauty. The unique house has three of the original brass chandeliers in the parlor, living room and dining room manufactured in France and brought by riverboat from New Orleans. The home is furnished with antiques from the early 19th to early 20th century.
Hizey House at 417 East Third Street — Owned by Stew and Kim Hizey, the home was built in the mid-1800s in the Camelback architectural style. It was recently remodeled with a freestanding fireplace as a cozy focal point.
River's Edge-Historic Hunger House at 213 Jefferson Street — Owned by Phillip and Angela Lobb, the home is an Italianate inspired house which was first recorded for sale by the founder of Madison, John Paul in 1828. The home is also known as "The Hunger House" with Hunger family members residing there from 1903-1986. This home has a unique blend of historic character and contemporary comfort with floor-to-ceiling windows, an amazing staircase and hardwood flooring with modern kitchens and bathrooms.
The Row House at 315 Central Avenue — Owned by Tony and Hilary Steinhardt, the Federal style row house forms part of a significant block of row houses along Central Avenue. It has simple corbelled brick cornices and rectangular cut lintels. Most of the flooring is original pine. The sitting room includes the transitional Greek revival mantle with a stone hearth.
"All of our homes are absolutely lovely this year," said Boone. "If you're interested in historic homes or interested in renovations, you can get all kinds of ideas by going through and seeing how creative people have been. Love the old but bring in the new, so it's a combination of different ways to take what's here and maintain the historical properties yet make it so that it's livable by today's standards. It's just really fun to see what people do."
The Tri Kappa Tour of Homes is hosted by Madison's active chapter, Beta Omega, that was installed March 26, 1921, and is celebrating its 100th anniversary this year. In commemoration of the 100th anniversary, Tri Kappa is selling a 100th anniversary "Bridging the Century" 100th anniversary cookbook with more than 400 recipes contributed by members, family and friends. Tri Kappa has 40 members, and Boone said approximately 250 volunteers assist with the tour.
Tours are Friday and Saturday from 10 a.m. to 6 p.m., and Sunday from noon to 5 p.m. Tickets cost $20 for adults and $8 for children and can be picked up or purchased at tour headquarters in Madison Presbyterian Church, 202 Broadway Street, beginning at 9:30 a.m. on Friday and Saturday, and 11:30 a.m. on Sunday.