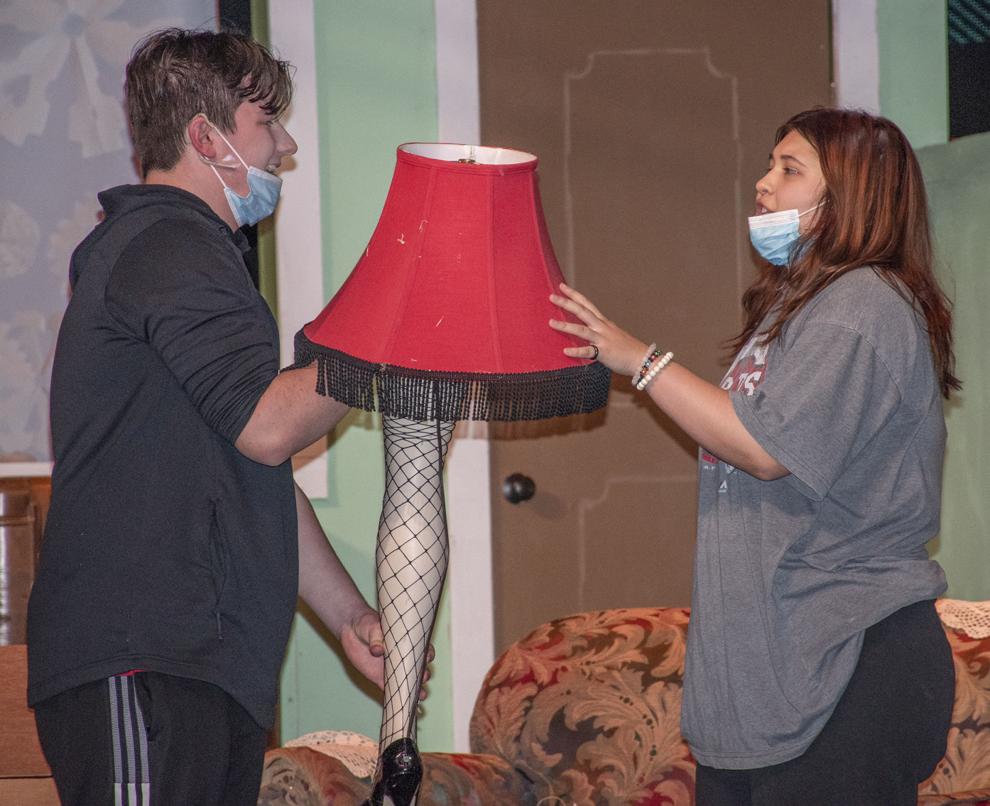 The 1983 film classic "A Christmas Story" has been a holiday favorite for many over the years, so much that since 1997 a cable channel has annually run a 24-hour marathon during Christmas and in 2012 a musical version debuted on Broadway.
Now the musical version of the comedy is coming to the stage at Madison Consolidated High School.
"A Christmas Story, The Musical" will be performed this weekend by the Madison Theatre program at MCHS with performances on Thursday, Friday and Saturday at 7 p.m. and matinees at 2:30 p.m. on Saturday and Sunday at Opal E. Sherman Auditorium.
"Everybody likes the movie, 'A Christmas Story,' plus putting music to it makes it that much better," said Gibsen Faulkner, who plays the Old Man in the musical.
"It stresses family a lot which I think is something that's important in this day and age," said Faulkner. "It stresses unity as well, especially around Christmas time because that's a pivotal time for a lot of people. It's funny. It's light-hearted. There are a lot of funny moments in it. I think it's a family show. It's really good for families to come and see it."
Set in the 1940s in the fictional town of Hohman, Indiana, the musical follows 9-year-old Ralphie Parker and his quest for the Holy Grail of Christmas gifts — an official Red Ryder carbine-action 200-shot Range Model air rifle. Rebuffed at every turn with a similar echoing response, Ralphie plots numerous schemes to achieve his desperate desire for the coveted BB gun. A kooky leg lamp, outrageous pink bunny pajamas, a cranky department store Santa and a triple-dog-dare to lick a freezing flagpole are just a few of the obstacles that stand between Ralphie and his Christmas dream.
Owain Kelsey, who plays Ralphie, describes the character as "the average kid that wants a Christmas present but he does it in a very comical way."
Lead characters in the musical have been cast with two actors. Kelsey is sharing the role of Ralphie with Wyatt Overpeck and Faulkner is sharing the role of the Old Man with Ethan Mack.
The character of the Old Man, who is Ralphie's father, displays some gruffness, especially in the early parts of the musical. "I get to act loud and boisterous on stage," said Faulkner, who noted that deep down the Old Man has a good heart.
"The dad really does care for his family," said Kelsey. "In one part of the script when they're talking about going to a baseball game, the Dad shows a little bit of affection towards Ralphie."
The role of Jean Shepherd serves as narrator of the musical. Shepherd co-scripted the film, "A Christmas Story," which is based on his own semi-autobiographical stories. The role in the musical is shared between Karson Couch and Will Ratcliff.
"I am recounting the story as if it was me when I was a child," said Ratcliff, who noted that his part in the musical "is very different than any acting I have ever done because usually you act off of other actors," but this part doesn't provide for that. "Nobody's going to react to me. I can act off of others, but nobody to me."
The role of Ralphie's mother is shared by Brooklyn Cornelius and Izzy Jett.
Others in the musical are Mia Mires and Mae Preston, sharing the role of Miss Shields; Kolton Lock as Randy Parker; Ruthie Whitaker as Schwartz; Chelsea Dattilo as Flick; Ellie Whitaker as Esther Jane; Poppy Kelsey at Mary Beth; Tyler Hook as Scut Farkus; Garrett Deuser as Grover Dill; Preston Kuppler as Fantasy Villain; Lilly Guirguis as Mrs. Schwartz; and Dillon Miller as Santa Claus.
Additional roles include Avery Clayton and Ava Overfield, other children; Saba Chabukashvili and Hunter Thompson, delivery men; Clint Hearne, policeman; Corleone Nicholson, fireman; Danny Winters, doctor and waiter; Jayla Perry, nurse; Andie Royce, Flick's mother; and Andre Howard and Emma Reilmann, chief elves.
The dancing and singing ensemble includes Zoe Bullock, Shelby Priebe, Haleigh Pyles, Violet Reetz, Emma Wynn, Chabukashvili, Hearne, Kuppler, Nicholson, Royce, Thompson and Winters. Those appearing as neighbors, shoppers, parents, students and townspeople include Kiarra Bauer, Adrianna Dattilo, Sophie Guirguis, Lilly Guirguis, Tabetha Jameison, Reilly Kuppler, Jayla Perry, Mckalyn Stewart, Howard and Miller.
Leah Combs is sharing stage managers duties with Caleb Lee.
"There's a lot to remember and a lot to do from lights to sound to huge set pieces that need to be moved on and off at certain times. It is a lot of work, but a lot fun," said Combs. She said she has been involved in many school productions in the past as an actor, but this is her first time being stage manager. "Learning the other side to how shows are put on, it's a completely different world," and has given her a greater appreciation for the crew that works on the musical. "I really respect them."
Others on the stage crew are Matthew Burkhardt, Crisnell Cabigting, Felicia Fischer, Brooke Hay, Libby Herbert, Maddy James, Kailee Lock, Laura Ratcliff and Claire Slygh. The tech crew includes Isa James, Owen Schmidt and Miriam Stancampiano.
The orchestra includes Mitchell Adams, Shawn Bentz, Nick Biallas, Erixana Brooks, Logan Combs, Gabe Gil, Jack Heckler, Hannah Johnston, Anni Kempton, Jaylin Lee, Kenton Mahoney, Ruby Massie, Karisa Shelton, Kyli Shields, Amy Whitaker and Nathan Wu.
Aaron Kelsey is the musical director with Melanie Torline serving as assistant director. Susie Stillwell is in charge of choreography. Teresa Grayson is the music director. Chricket King is the accompanist.
Tickets can be purchased online at our.show/achristmasstory with adult tickets $15 and student K-12 student tickets $5. At the door, adult tickets cost $17 and student K-12 student tickets are $7. Adult tickets for matinee shows are $5 off.