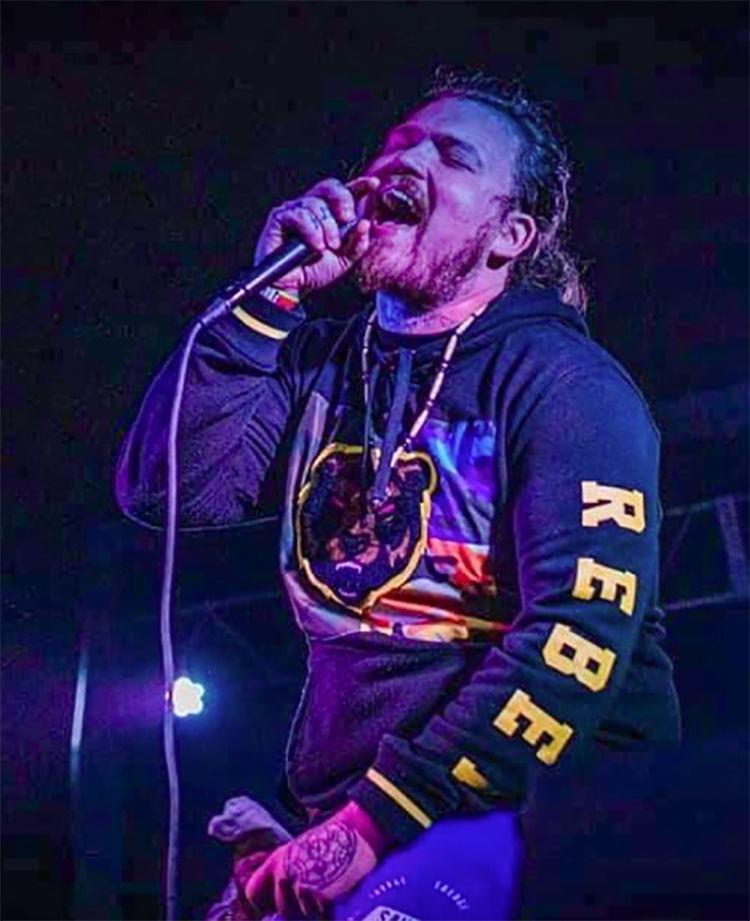 When I met with Kerry Owens he'd been living in Madison for exactly two days. The 31-year-old Rushville native had been living in Indy for most of the last decade, but his parents moved here about eight years ago and he's been coming for regular visits.
"Dad is a chef and he cooks for the Sigma Chi fraternity out at Hanover. I've been coming on weekends, and the music culture here in Madison has really been intriguing me," relates Kerry. "I've been totally immersed in the hip hop scene up in Indy, but I'm ready for a change. Madison seemed like a natural choice.
"It's exciting to be here. I've already talked to Brent Turner and Drew Eades from Unbroken Circle Productions about opportunities to perform here. I've talked to Jimmy Davis. Everybody has been so supportive and encouraging so far."
I had the opportunity to see Kerry in action last Tuesday at open mic night at The Taproom. It was one of the more unconventional performances I've ever seen. Jimmy Davis was there with Danny Cook on bass and Kerry Mefford on drums. He just asked them to take off on any jam they wanted and he'd jump in over top with improvised lyrics.
So off they went on a hot and funky groove, and here comes Kerry, bopping to the beat and stepping off the Taproom stage with microphone in hand, freestyling lyrics and scatting a tune. It was very cool, I must say. Next Jimmy and the guys spun a reggae jam, and Kerry joined right in. No rehearsal. No sheet music. No concept of where it might go. Very improvisational and fun.
"I've always focused more on vocals, less on playing an instrument," says Kerry. "I have picked up some guitar along the way, pretty much self-taught. But now I'm ready to break out of the hip hop mold and get back to the style of music I've always wanted to do.
"I guess if you had to label the style I'm going for it would be Americana or Roots music. I'm in the process right now of talking to people and hopefully putting a three- or four-piece band together. I'm not really a solo guy, I need musicians behind me.
"As far as songwriting goes, I'm sort of a story guy. I just live my life for two or three months and experience all the normal things that life throws at you, then I have the material I need to do some songwriting.
"I don't care what your life is like, whether there is lots of drama, or whether things are settled and simple, the story is there. The feelings are there. You just have to be observant and take note of the way humans interact and how they feel.
"I'm really excited for this new chapter of my life here in Madison. It was the right time and the right next step. And I made sure I was ready for a move like this. Hopefully in the not too distant future you'll be able to see me singing my new music at the local venues here in Madison."
Hot Tip of the Week
Thursday night, Oct. 7, is kind of a red-letter date for live music. Konrad Wert, who plays under the stage name Possessed by Paul James, will be bringing his totally unique and entertaining show to Red Bicycle Hall. Paul James was his grandfather, and he often performs like a man possessed! His new album "As We Go Wandering" was recently charting No. 5 on Billboard's Bluegrass Albums. Also on Thursday at The Taproom will be a special appearance by a band out of Minnesota called Good Morning Bedlam. Quoting from their band bio, "Their shows are known for their contagious energy, with members careening about the stage, jumping and dancing with a wild playfulness." Sounds good to me! And don't forget, Saturday is Soup Stew Chili Brew, with live music starting at 11 a.m. on three stages and going all day.
Upcoming show alert
Mark your calendar (and get your tickets while you still can) for Wayne "The Train" Hancock, coming to Red Bicycle Hall next Friday, Oct. 15. The dude is a legend! Anthony Ray Wright will be opening for him. Charlie Rohlfing is a retired advertising man and partner in The Red Bicycle Hall music venue. Look for his distinctive fedora bobbing above the crowd, anywhere live local music is happening.
This Week in Music
Thursday, October 7
Off Broadway Taproom — Good Morning Bedlam
Red Bicycle Hall — Possessed by Paul James
Friday, October 8
Central Hotel — Tyrone Cotton
Off Broadway Taproom — Falls City Boys
Mad Paddle — Brett Stafford Smith
Saturday, October 9
Central Hotel — Stacey & the Wildcards
Off Broadway Taproom — Brother Smith
Thomas Family Winery — Anthony Ray Wright
Lighthouse — Jhonnie & Sallie
Mad Paddle — R0man T0ast
VFW — Jordan Tyler (open to public)
Moose — Smokin Guns (open to public)
Main Street — Soup Stew Chili Brew
Sunday, October 10
Stream Cliff Farm — Robert Reynolds (Last one of the season)
Monday, October 11
Crafted Coffee — Open Mic Night
Tuesday, October 12
Off-Broadway Taproom — Open Mic Night
Wednesday, October 13
Central Hotel — Doug Dillman