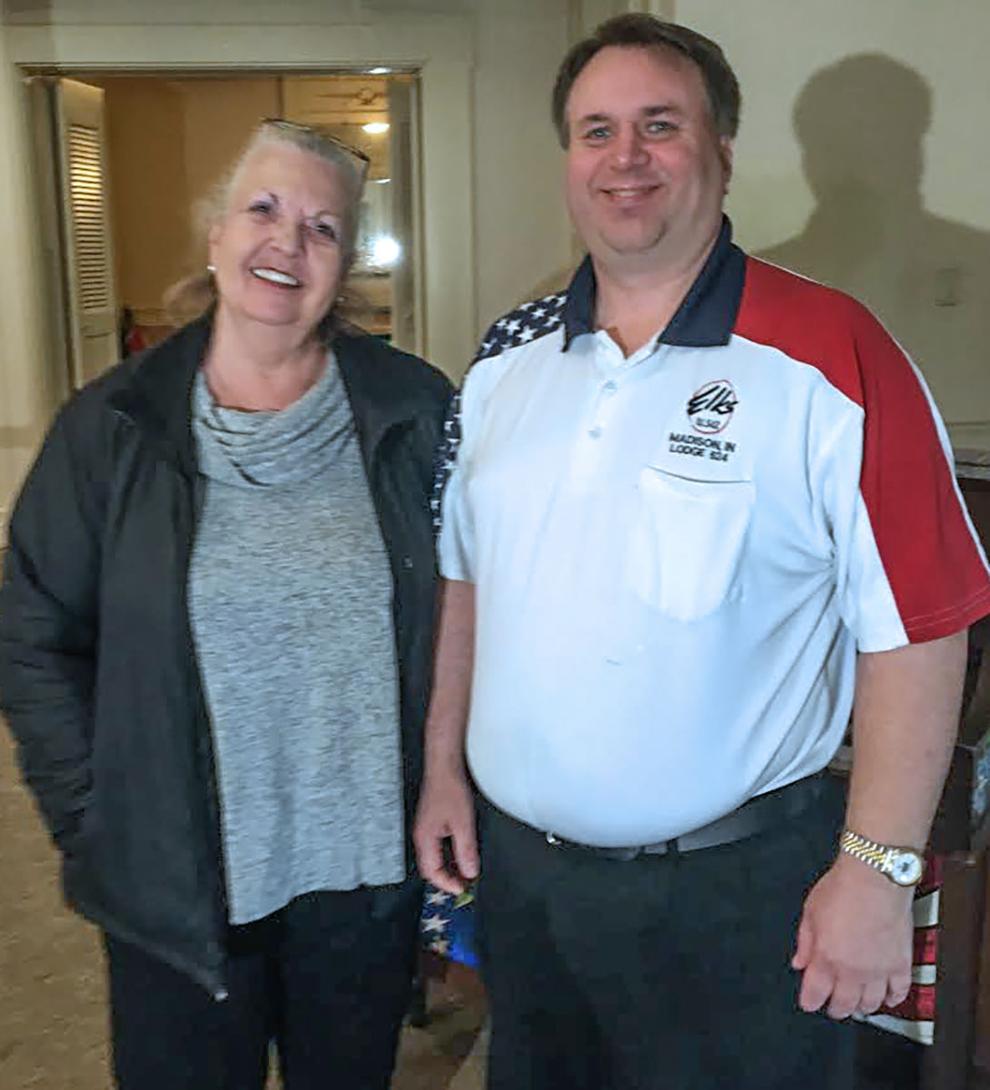 "We wanted to let the public know that we are part of the music scene in Madison," says Scott Tebbe, former club president and driving force behind live music at the Madison Elks Lodge. "We want to be part of M3, the Madison Music Movement, and a vibrant contributing part of the community, not the old stodgy Elks Lodge that so many people think of."
The Elks, located in the former Madison Country Club building at the far west end of downtown, has been hosting live music on Wednesdays for a couple years now, and quite often on Thursdays, too. The shows are all open to the general public (unless otherwise noted) and the music is staged in the cozy front gathering room, with a full bar available.
"The people who come for the first time really like the atmosphere," continues Scott, "it's small, intimate and friendly. It's the perfect place to come with a group of friends if you want to get out on a weekday evening.
"It all started a couple years ago with the Spare Change Band, out of Jennings County. They were playing just about every Wednesday and we all got to really enjoying the energy. Since those early days we've featured Joe Perkinson and Deano Crafton, Amy Noel and Michael Fortunato, Kyle Pearl, Leah Pruett, Matt Stokes, Robbie Davidson, Rick Eblen and recently Margo Watkins."
At this point, Debbie Ciganovich, the current club president (Exalted Ruler) chimes in. "We decided if this was going to be a regular event it ought to have a regular name. We call these shows 'Herd It At The Elks'. I see it as a real draw for the Elks Lodge, a chance for non-members to come and enjoy this lovely location we have down here at the edge of the golf course. And going forward I'd like to see it pulling in a younger crowd, like people in the 30- to 40-year-old range.
"It's been a great thing, I've seen a difference in the attitude and engagement of the lodge members, having something fun and consistent like these shows. And it's helped our room rental business, with more people coming in and seeing this great facility we have.
"Honestly, I've been thinking about how we can take it even further. Maybe some kind of amateur night or open mic night? The more people come out and support us, the more we can grow it and make it better."
"Music has changed the outlook of our lodge locally," interjects Scott, "made us more community oriented. I'd encourage everyone to keep an eye on the Weekly Music Calendar here in The Madison Courier to see what we have scheduled. If you see a performer you really enjoy, like Joe Perkinson or Amy Noel, grab some friends and come on down. It's a great way to spend a Wednesday evening.
HOT TIP OF THE WEEK
The Friday Live Lunch concerts have resumed at Lytle Park, and will run all summer long. The shows start at 11:30 a.m., and you are encouraged to bring a sack lunch, sit at one of the picnic tables, and enjoy great live music. This week the always entertaining Tim Brickley will be playing.
Mad Paddle Brewery has a fun one-two punch on Friday and Saturday. Bass player and distillery master extraordinaire Craig Philipp will bring his band The Mens Room to Mad Paddle on Friday, and then switch up the line-up for his classic rock/blues band The Bottle Trees on Saturday. Make it an "All-Craig" weekend and you can't go wrong!
Charlie Rohlfing is a retired advertising man and partner in The Red Bicycle Hall music venue. Look for his distinctive fedora bobbing above the crowd, anywhere live local music is happening.
This Week in Music
Thursday, May 6
Mad Paddle Brewery — Paul Rosewood
Broadway Tavern — Joe Perkinson
Friday, May 7
Mad Paddle Brewery — The Mens Room
Off-Broadway Taproom — Jimmy Davis Band
Riverboat Inn — Joe Perkinson
Lytle Park — Tim Brickley (11:30 a.m.)
Saturday, May 8
Mad Paddle Brewery — The Bottle Trees
Off-Broadway Taproom — Bobby Robbins & Guest
Thomas Family Winery — The Derby City Dandies
Riverboat Inn — Joe Perkinson with Deano Crafton
Electric Lady — Kinetic Pulse Dance Rave
Wednesday, May 12
Elks Lodge — Joe Perkinson