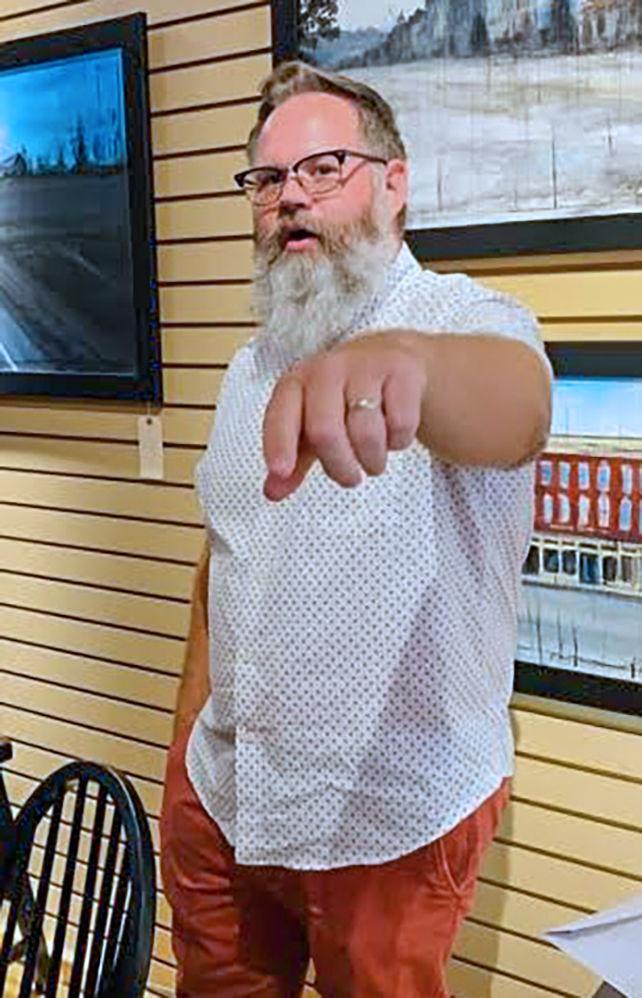 Eric Phagan looks at his life as sort of inverted from the normal flow of events. While most of us were getting married and starting a family and trying to get our careers off the ground, Eric was living his dream as a successful young artist, travelling the world and honing his craft.
"I'm a Madison boy," Eric explains, "Class of '98 at MCHS, and then I went directly to the Herron School of Art & Design up in Indy. I also went to the Penland School of Crafts down in North Carolina. And I was fortunate to study art abroad in Paris for a year.
"It was my time in Paris that really solidified my style. I came back totally energized, with my eyes open and my mind clear on what I wanted to express and how to do it.
"My art career really started to get traction, with gallery representation in a couple of cities, some national art shows displaying my work, and even a few of my pieces getting selected for permanent exhibits, like the San Angelo Museum of Fine Arts down in Texas. The decade of my 20s was very exciting and professionally fulfilling.
"But I was missing something important in my life, and that was a family. I came back to the Madison area, fell in love with my future wife, Jessica, and am now the proud father of three kids, Vinson, Connor and Callie.
"I'm teaching art at Madison High School full time now, but I'm also a full-time artist with my studio downtown at Gallery 115. And I'm also very much a full-time dad right now.
"But I also have a part-time job which is playing music. About 12 years ago I bought a drum kit and taught myself to play. I'm the drummer in the band Slick River Rockets with Chip Binzer, Rick Bennett and Brook Reindollar.
"There was a drummer some years back here in Madison named Charlie Warren, and he had a huge collection of drum equipment. They had a big auction of all his stuff, and I picked out this Ludwig black oyster pearl kit that is basically the same as Ringo Starr played.
"To this day I still use that same kit. The only thing changed from when Charlie Warren owned it is a new skin on the snare, and I painted Slick River Rockets on the front of the bass drum. It works perfectly for the style of music I like to play, which is rockabilly and early rock.
"I'm not sure why a guy my age, born in the early 80s, is so into the music of the 50s. I guess I've always been immersed in that time period. My dad worked on old cars from that time. And I grew up listening to Elvis and Jerry Lee and Chuck Berry. Back to the Future is my favorite all time movie!
"That's why I'm so excited about Wayne Hancock coming to Madison this Friday. I've been listening to him for about 15 years. I think his sound is best described as kind of juke joint swing, sort of pre-Sun Records. Hank Williams with drums, you could say.
"So going all the way back to 2008 or so when RiverRoots was still happening, I started bugging Jane Vonderheide. I'd tell her, you gotta book Wayne Hancock. I told Greg Ziesemer about him. Anybody who would listen. And then finally the Kindred Folk Society booked him for 2020, and COVID got in the way. I was heartbroken.
"But the day is finally here, this Friday, the 15th, at Red Bicycle Hall. And to make it even better, my good friend Anthony Ray Wright is the opening act. I'm so excited I can barely stand it!"
HOT TIP OF THE WEEK
If you're a fan of the old-time country sound, and I'm talking the REAL old-time sound, like Hank Williams Sr., then you have a treat waiting for you at Red Bicycle Hall this Friday. Wayne "The Train" Hancock is finally coming to town, after a long COVID delay, as part of the Kindred Folk Society Series of concerts. If Wayne's version of juke joint swing doesn't have you up and tapping your feet, then you are just so lonesome I could cry! Anthony Ray Wright will open the show with his special brand of Texas-tinged rockabilly. Another show of note is an artist called Miss Tess who is literally passing through town on Sunday, and she has been prevailed upon to pause for the night and do a show in Acree Alley, next to Thomas Family Winery at 6 p.m. She has kind of a vintage, old-timey vibe, and it should be a fun show.
Charlie Rohlfing is a retired advertising man and partner in The Red Bicycle Hall music venue. Look for his distinctive fedora bobbing above the crowd, anywhere live local music is happening.
This Week in Music
Thursday, Oct. 14
Mad Paddle — Madhouse Moxie
Broadway Hotel — Leah Pruett
Friday, Oct. 15
Central Hotel — Full Moon Risen
Red Bicycle Hall — Wayne Hancock, with Anthony Ray Wright
Mad Paddle — Moonshine Mary
Riverboat Inn — Joe & Deano
Stream Cliff Farm — Johnny Cash Tribute (11 a.m.)
American Legion — Dusty Road (open to public)
Saturday, Oct. 16
Central Hotel — Crossfire
Riverboat Inn — Joe & Deano
Stream Cliff Farm — Skyline Drive (11 a.m.)
Thomas Family Winery — Tim Brickley & Bleeding Hearts
Lighthouse — Jimmy Davis
Mad Paddle — Jordan Tyler
Sunday, Oct. 17
Acree Alley — Miss Tess (6 p.m.)
Monday, Oct. 18
Crafted Coffee — Open Mic Night
Tuesday, Oct. 19
Off-Broadway Taproom — Open Mic Night
Wednesday, Oct. 20
Central Hotel — Bo Williams