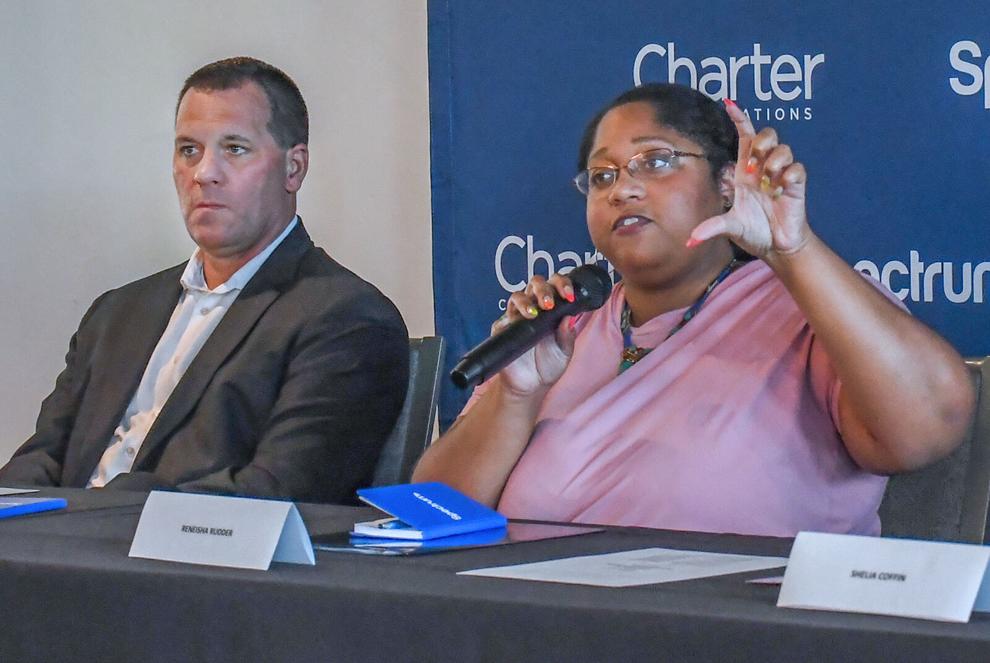 With expanding broadband connectivity into rural areas of Jefferson County identified as a key need, community leaders and elected officials gathered Tuesday as part of an announcement by Spectrum that construction for expansion into rural Jefferson County will begin in June.
Once the construction phase of the Jefferson County project is complete, Spectrum says that more than 1,400 homes and small businesses covering 170 miles will have access to broadband and other services for the first time. Completion is slated by the end of 2024, pending pole application access.
Indiana's Next Level Connections Broadband Grant awarded Spectrum $3,963,805.88 in December to expand broadband access to 557 households and 16 businesses in Jefferson County. This covers various locations in Jefferson County that are roughly along US 421 in the vicinity of Bryantsburg and Belleview, and along State Road 7 in the vicinity of Wirt, Lancaster and Dupont, as well as some other areas.
The event featured a panel that included Earnie Holtrey, deputy director of the Indiana Broadband Office; Jefferson County Commissioners Bobby Little and David Bramer; Renisha Rudder, digital inclusion coordinator for Southeastern Indiana Regional Planning Commission; Sheila Coffin, executive director for Jefferson County United Way; and Judi Terpening, executive director of the Jefferson County Public Library.
Commissioner David Bramer said the COVID-19 pandemic highlighted the importance of broadband. "When students have to work from home and a large number don't have the ability to do that," which impacted their ability to get an education during a time when students were participating in school virtually.
Bramer noted the county's comprehensive plan that was adopted two years ago, stated "that we needed to expand our broadband capabilities." But in the rural areas of the county, Bramer knew there would be challenges. "While the county is beautiful, it's hard to get internet to folks because of the way it is" with some places that spread distances apart. "It's hard to run hundreds of miles of fiber" when locations are far apart.
Holtrey agreed that's where the greatest challenges exist with "the cost for bringing fiber to the remotest of remote area." And even if there were 100% grants to get that in there, there's still the need to maintain that over the years. "So, we need to look at alternate technologies when we get into those extremely high cost areas. There is no one solution."
A the same time there was universal agreement that high speed broadband is needed by everybody.
Terpening said at the library "we're the ones seeing the people coming in who don't have access or don't have great access. We have more and more coming in who are working remotely, who have internet at home, but it's not fast enough to do what they need to do so they say 'I'm coming to work at the library today.' "
Terpening said the library has even expanded its internet to outside their buildings at Madison and Hanover so that patrons can access broadband from their parked cars.
The United Way is offering programs for digital inclusion and digital equity that works to improve access to information and communication technologies, including internet service, internet-enabled devices, digital literacy and quality technical support.
"Affordability is definitely an issue with our clientele," Sheila Coffin, executive director of Jefferson County United Way, said. She added that some people "can barely afford to put food on the table, and this becomes an issue when they have to pay rent, they have utilities and children to feed. And they see broadband as a luxury instead of a critical service. But we all know that is no longer a luxury, it is a critical service. They have to have access to health, they have to have economic opportunities, learning and education. So, it absolutely is a barrier" if they do not have internet access.
Rudder said it's important for everyone to be able to access adequate and reliable broadband. "Is it fast enough to do what we need? For the tasks we do with our personal lives but also for work and for schools, and is it reliable? Can we count on that connection? When we turn on our device and push that button for the internet, can we expect to be connected? Or is there going to be some barriers to that?"
Bramer emphasized the importance of internet speed, recalling times in the past when his wife would say 'I can just fold clothes while I am waiting for things to load up' while trying to connect to the internet. "A lot of people have to deal with it, and have to deal with it now. So many things in our lives today that are set up to do online, that really need broadband, you don't have the time to sit and fold your laundry while waiting on something." He said some people, because they live in rural areas, don't think there is anything better, but that's what they are trying to address by working to improve broadband reliability and speeds throughout the Jefferson County.
In comments before the panel discussion, Madison Mayor Bob Courtney emphasized the importance of digital inclusion. "If we're ever going to overcome those issues, it's going to take policy and the power of investment, and a lot of incentives and grants from the state of Indiana to invest in that infrastructure." He said the city of Madison and Jefferson County have infrastructure but "we need the county to fully have the infrastructure that connects us all." He said the investment of broadband in Jefferson County can make a positive impact of the local economy, and "draw people to our community."
Many at Tuesday's event gave credit to Erica Cline, who has served as the county's Broadband Ambassador, as driving the effort forward for broadband connectivity in Jefferson County. "Erica stepped up, and took that lead and brought it together," said Bramer. The event was Cline's last official duty as a Jefferson County government employee since she recently accepted a position with Madison Precision.
Little echoed Bramer's praise of Cline, and also credited the work of the Jefferson County Broadband Task Force. "I think the biggest thing was the commitment of the group to see this through" and to do the work to continue working until everyone in the county had internet access. "There are areas that are almost impossible to reach but we will get there."
At the end of the program, Spectrum presented a $1,500 check to Jefferson County United Way in support of its digital inclusion and digital equity program.