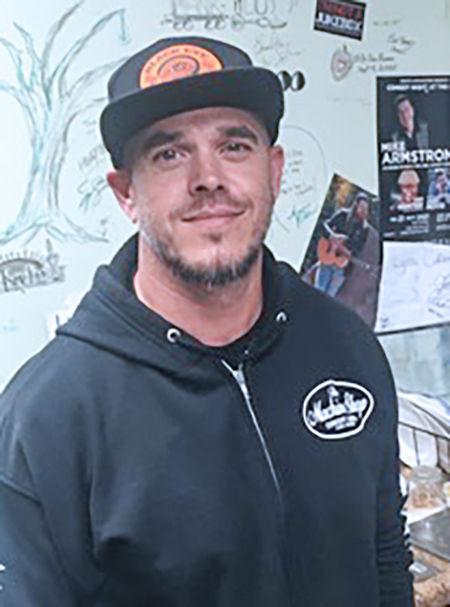 "I was the typical Madison music kid," relates Tanner Keegan Owings. "I took piano lessons from Archie Coons. I was into theater and staging musicals. I had a high school band called Temperance that played the county fairs and the usual stuff. In addition to piano, I play guitar, and bass, plus I'm a singer.
"So when I graduated high school in 1999 I went directly to Florida and entered an intense, hands-on music production program at Full Sail University. They had us studying and playing all hours of the day and night, getting us ready for the true musician's lifestyle!
"After Full Sail I got an internship at Transcontinental Records, which exposed me to a lot of new influences and new people. I ended up joining a prog metal band called Indorphine that really helped up my level as a musician.
"With Indorphine I got to tour for about seven years, opening for a lot of bigger bands and making contacts in the industry. Two of those contacts, which would prove very fortunate later on, was Mark Tremonti, a founding member of the band Creed, and Sam Rivers, the bass player for Limp Bizkit.
"Both of these very successful guys, Mark and Sam, were big fans of our band Indorphine, and they would help us any way they could. They all remember what it was like coming up, and these guys were happy to pave the way and give us a hand when they could.
"Anyway, some years went by, I guess it was around 2014, and I'm still living in Florida, playing with my own band, which is called the Tanner Keegan Band, and I get a call from Sam Rivers. Limp Bizkit was going out on tour and Sam needed a bass tech.
"Now for those readers who aren't familiar with the crew of a super popular rock band, each of the musicians has a 'tech' who acts as a kind of assistant. In my case as the bass tech, it's my job to make sure Sam's bass guitars are always ready to go, in proper tune and with fresh strings.
"There are also guitar techs and drum techs. It lets the band members relax and not worry about their instruments. They just step on stage when it's time to play, we hand them their guitar or bass or drumsticks, and they know everything will be set up properly and ready to go.
"If it sounds like a pretty cushy job, you'd be correct. I've been to Japan, Korea, all across the US, of course. My most recent tour right before COVID was Russia.
"So in 2015 Limp Bizkit is the headliner on this thing called Shiprock, where all these bands and fans go out on a cruise ship for a week of partying and music. The band Tremonti was also on the cruise and their bass player, who happened to be Wolfgang Van Halen, had to leave.
"Like I said, I knew Mark Tremonti from my Indorphine days, so he asked if I want to step in and play bass. I've been the bass player for Tremonti ever since!
"Right now Tremonti's new record 'Marching In Time' is No. 1 in the U.K. in the Rock & Metal category, and it's No. 2 in Germany. I think it hit like No. 36 on the US Billboard chart.
"So I have that going on. Plus I'll still go out with Limp Bizkit when they need me. And in between tours I play a lot with my own band down in Florida.
"I've actually played some in Madison on my visits home. I played the Lighthouse last summer, and I jammed with Jimmy at the Taproom one night. It's really awesome to see so many great local musicians here in Madison, getting behind the live music scene. I actually wouldn't mind ending up back here some day!"
HOT TIP OF THE WEEK
It used to be, radio airplay was the mark of success for a musician. Today it's more about Spotify streams and YouTube views. And based on that criteria, the country artist Alexis Taylor is very popular indeed. She brings her polished Nashville sound (and 20,000-plus YouTube followers!) to Mad Paddle this Friday night. If classical is more your thing, the first of the Madison Performing Arts concert series shows is also this Friday, with two pianists at Trinity Methodist church. And on Saturday, be sure to get down to Mulberry and Second for the Grand Celebration of the huge Kindness mural. Artists have been working just about around the clock to complete it! Rusty Bladen and Bluebird Alley Band will be providing the entertainment from 2 p.m. to 4 p.m.
Charlie Rohlfing is a retired advertising man and partner in The Red Bicycle Hall music venue. Look for his distinctive fedora bobbing above the crowd, anywhere live local music is happening.
This Week in Music
Friday, October 22
Central Hotel — Amy Noel
Mad Paddle — Alexis Taylor
Riverboat Inn — Joe & Deano
Off-Broadway Taproom — Noah Smith
Trinity Methodist — Pianist Curtis Pavey & Helen Hyesoo Kim
American Legion — Dynamite Don & the Dynamos (open to public)
Moose — Fullmoon Rising (open to public)
Saturday, October 23
Mulberry & Second — Mural Celebration with Rusty Bladen & Bluebird Alley Band (2 p.m.)
Next to Sallie's Ice Cream — Grand Opening of Madison Music Studio (2:30 p.m.)
Central Hotel — Smokin' Guns
Riverboat Inn — Sandy Pickett
Broadway Tavern — Chicken Dinner Band
Thomas Family Winery — Highland Reign
Lighthouse — Jhonny & Sallie
Mad Paddle — Fabulous Hickbillies
Off-Broadway Taproom — Darryl Hewitt
Monday, October 25
Crafted Coffee — Open Mic Night
Tuesday, October 26
Off-Broadway Taproom — Open Mic Night
Wednesday, October 27
Central Hotel — Jimmy Davis