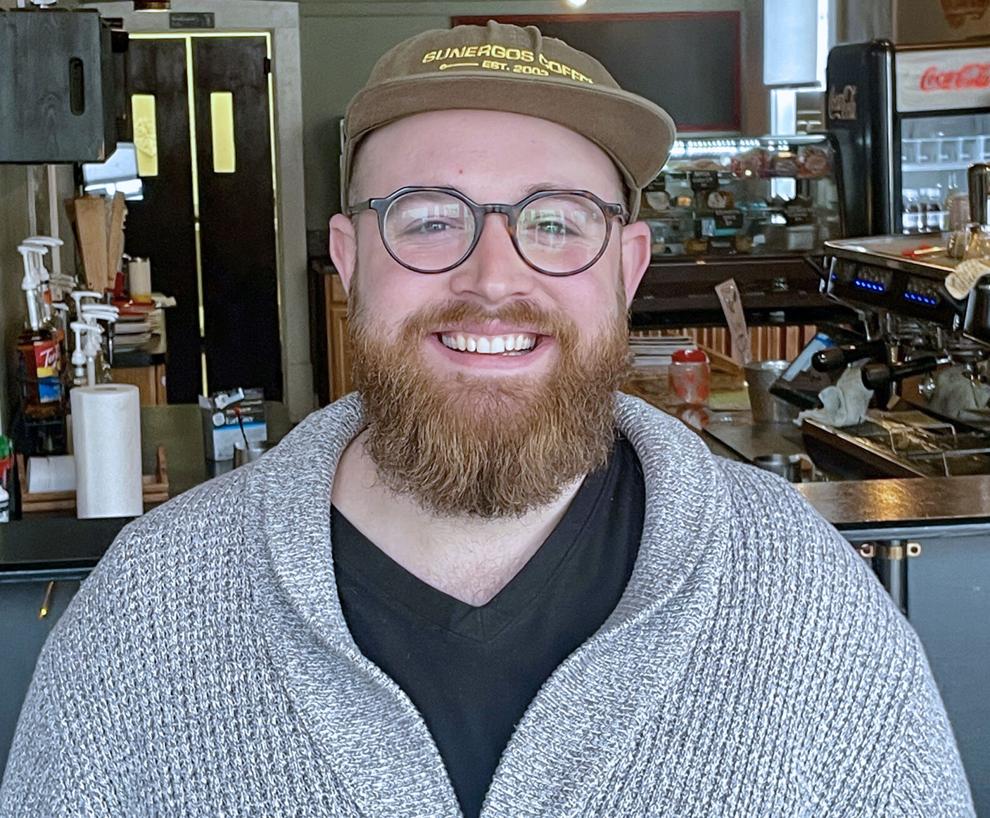 You know you're living in a real music town when it seems like every other bartender, waiter, barista, and bouncer you encounter is also a musician, and quite often working on their own album project. Such is the case in Madison, and why it was no surprise when I learned that the young man serving my brew at Crafted Coffee is also an aspiring singer-songwriter.
Noah Wright recently purchased Crafted Coffee from the original owner, the Crafton brothers. Noah and his family live just a few doors away behind the shop.
"I'm pretty excited about the potential of this shop," Noah explained. "Not just as a coffee business, but as a nurturing space for the many creative people who call Madison home.
"My dream is to build a sort of culture of creative collaboration, with Crafted as the central locus. A space for artists, visual, musical, all kinds, to just loaf and talk and argue and engage with each other.
"Madison is a very fertile ground for artists to grow, and I want this shop to be the trellis or structure of it to flourish and climb, if that makes sense.
"It might take the form of songwriter meet-ups, where an experienced mentor like Robert Reynolds provides guidance and encouragement to budding songwriters. It might be a monthly paint night where artists gather and practice. One of our baristas, Bevany Phelps, has led a couple of these paint nights here.
"It might be a book club that meets here, or a writer's night. It could be an open mic for singing or poetry. And I'm really thinking about the younger crowd. I think there are existing opportunities for the older folks in town, but less so for the Millenials and Gen Z. I'd like to fill that gap. Especially since I'm one of them!
"This whole dream ties directly in with my own interest in music and songwriting. I was a preacher's kid, and I had to change schools all the time. One of the ways I made connections and new friends was through music.
"When I write my songs, the subject matter tends to be hyper local. It's mostly about family, my wife, and my friendships in the community. I have about an albums-worth of songs almost ready to put out there, and I got a lot of great encouragement from Robert Reynolds. He says they are pretty good songs, and who am I to argue with Robert?
"So, I guess as the saying goes, keep your eye on this space! We'll probably get an open mic going pretty soon, and then hopefully some of the other meet-ups, like painting and songwriting. And I think it's about time to bring out my original songs and share them with the world. There's so much I want to get going here, and we're just getting started!
Hot Tip of the Week
First, before we look at the week ahead, a quick glimpse at the weekend behind us. I had a chance to catch Jimmy Mundane Band at Rivertown Grill last Friday, and I was suitably impressed. This Carrollton-based band knows how to rock! Keep an eye out for Jimmy Mundane playing more local venues as the season warms up. Looking at this coming weekend, there are at least two shows worth your special attention. The first is the Songwriters in the Round show at Red Bicycle Hall on Saturday, produced by House of Jane. If you like great original songs, sung by them that wrote 'em, don't miss this event. The other show I'm excited about, and where you will probably find me on Saturday, is Tim Brickley and his band playing at the Taproom. Madison loves Tim, and the atmosphere will be pure joy and love. See you there!
Charlie Rohlfing is a retired advertising man and partner in The Red Bicycle Hall music venue. Look for his distinctive fedora bobbing above the crowd, anywhere live local music is happening.
This Week in Music
Thursday, March 16
Rivertown Grill — Fred Elam
The Central — Jam with Jimmy
Friday, March 17
1st Street Saloon — Gary Brown
American Legion — Madhouse Moxie
Rivertown Grill — Strange Brew
The Central — Taste of Ireland
The Drake — Vaguely Familiar
Brown Gym — Old School Band (senior citizens dance door opens 5 p.m./dance 6:30 p.m.)
VFW — Karaoke
Saturday, March 18
Off-Broadway Taproom — Tim Brickley & the Bleeding Hearts
Rivertown Grill — Bipolar 2.0
The Central — Rich Hardesty & the Little Nashville
Red Bicycle Hall — Songwriters in the Round
VFW — Hotwired
Sunday, March 19
Rivertown Grill — Hippie Fingers
Tuesday, March 21
Off-Broadway Taproom — Open Mic Night