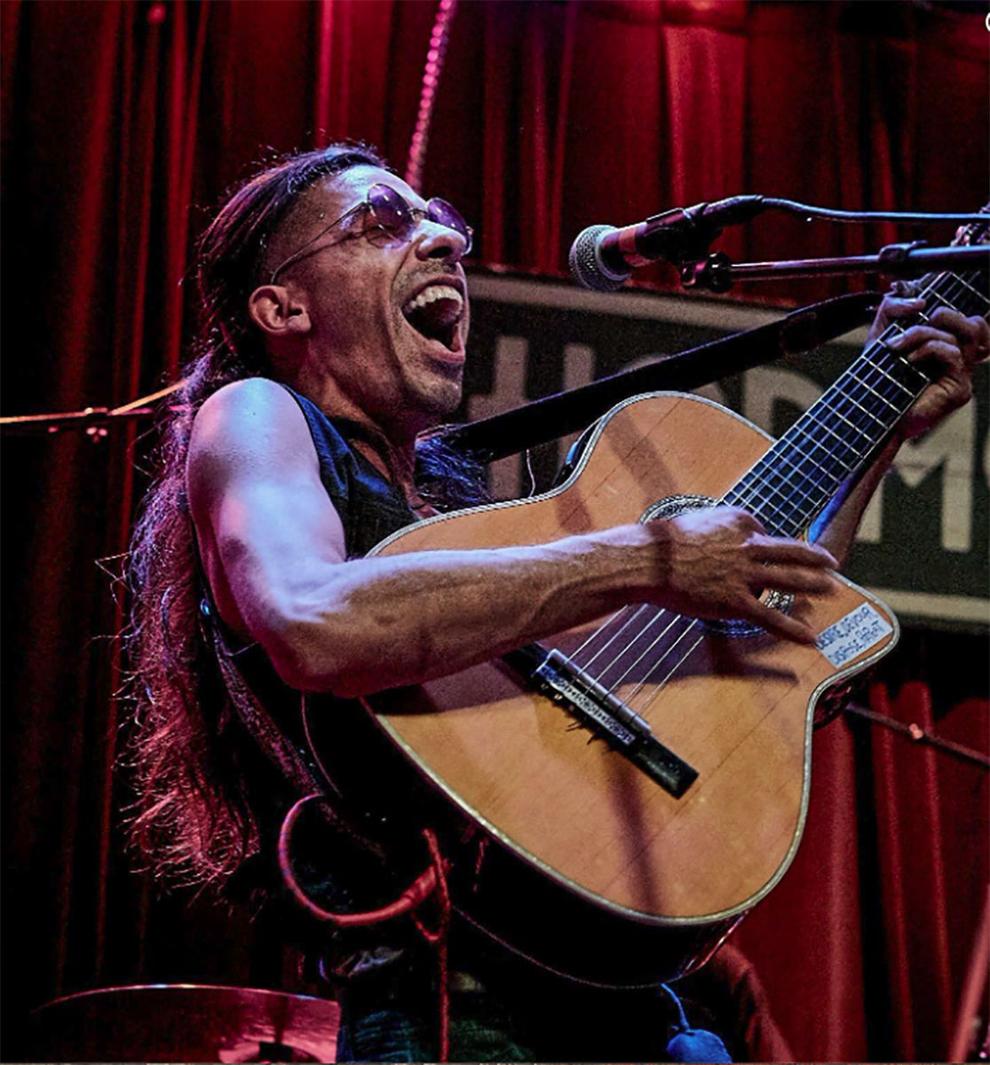 First of all, I have a couple of Hot Tips too hot to wait until the end of this article. On Saturday night at Off-Broadway Taproom, Michael Fierro, lead singer and guitarist for the band Snaps for Sinners, will be performing a solo show. The California-based Snaps have played in Madison numerous times, but always as a trio. This solo appearance should be special.
And secondly, Tyler Warden, lead singer for the band The Bottle Trees, is doing a solo show at Mad Paddle on Friday. I've seen Tyler several times fronting for the band, and he is a charismatic and expressive performer. Check it out on Friday if you are out and about.
And I might as well throw in a third recommendation. Jason Wells, the extremely talented and entertaining blues musician, will be bringing his band to Mad Paddle for the third time this Saturday. Don't be surprised if local guitar hero Tom Steveley sits in for a few songs!
As we head into the warmer months and COVID releases it's grip (hopefully soon, please stay vigilant a little longer!) it's worth taking stock of the many local music venues that will be coming online again.
Red Bicycle Hall, after a long slow winter of sporadic shows, is back with five shows in April and one scheduled already for May. Off-Broadway Taproom is consistently hosting music on Friday and Saturday weekly. Mad Paddle is committed to Thursday, Friday and Saturday weekly. And Thomas Family Winery is back with every music Saturday.
But it's worth taking a look at some of the other venues, and thinking about how we can support them so they can be more consistent. Riverboat Inn features nice intimate solo acts fairly often. The Historic Broadway Tavern will pop in with a show from time to time, especially as it gets warmer and they can utilize their front patio area. Oh, and Joe Breeck at Rivertown Grill will be having music very soon, too.
The Elks Lodge is sponsoring music on a lot of Wednesdays and Thursdays, trying to fill in the mid-week demand for live entertainment. And I just got word that the Moose Lodge on the hilltop has a show coming up next week. Hopefully the American Legion will get back in the swing soon, too.
But a big one to watch out for very soon is the Lighthouse floating bar and restaurant down on Vaughn Drive on the riverfront. They are very close to opening back up, and they share a commitment to live music and being a contributing part of Indiana's Music City.
The thing to remember about all these venues, especially the ones that are less than consistent, or only have music one night a week, is that it's all based on economics and customer support.
All these venues love hosting live music, but it costs money to hire musicians, and there needs to be a consistent incremental increase in business to justify it. That's where we, the music fans of Madison, come in. If we get off the couch and get out and fill these venues, then they will continue with live music. In fact, most of them will expand their music offerings, if the demand justifies it.
So get out there. Fill the seats and enjoy the show. And if you know the manager or owner of the venue, call them over and tell them how much you appreciate what they are doing. We are the key to Indiana's Music City. Tell your friends, especially your out-of-town friends, about the great things happening here every weekend!
HOT TIP OF THE WEEK
On a personal note, this Friday my wife and I will be "fully vaccinated," to use the medical vernacular. It will be two weeks since our second COVID shot, so we are as virus-resistant as we're gonna get. It is our intention to head down to Off-Broadway Taproom, sit at a stage front table (or maybe at the bar) and listen to the duo Vaguely Familiar play their almost-remembered song list. This is kind of a big deal for us, since it was just over a year ago that we last enjoyed an evening at our favorite little pub. We'll still be wearing our masks when we can, respecting the space and health of those around us, but it's time for us to start enjoying Madison music again. I urge you to join us!
Charlie Rohlfing is a retired advertising man and partner in The Red Bicycle Hall music venue. Look for his distinctive fedora bobbing above the crowd, anywhere live local music is happening.
This Week in Music
Thursday, April 8
Mad Paddle Brewery — Tracy & Elaine
Elks Lodge — Joe Perkinson
Friday, April 9
Mad Paddle Brewery — Tyler Warden
Off-Broadway Taproom — Vaguely Familiar
Riverboat Inn — Joe Perkinson
Saturday, April 10
Mad Paddle Brewery — Jason Wells Band
Thomas Family Winery — Rivertown Ramblers
Off-Broadway Taproom — Michael Fierro
Riverboat Inn — Joe Perkinson & Deano Crafton