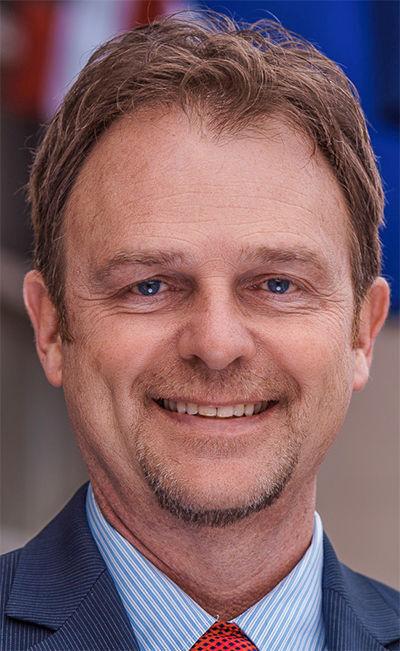 With hopes of being awarded up to $50 million as part of the Regional Economic Acceleration and Development Initiative (READI) from the Indiana Economic Development Corporation (IEDC), Our Southern Indiana Regional Development Authority (OurSIRDA) made its presentation Friday in Indianapolis.
READI is dedicating $500 million in state appropriations to promote strategic investments with the hopes of making Indiana a magnet for talent and economic growth. With 17 regions throughout the state, representing all 92 counties, applying for a piece of that grant money, the READI review committee will decide what regions will receive up to $50 million in funding.
OurSIRDA was the last of the 17 regions to make its presentation, highlighting six priority areas — Destinations, Natural Assets, Economic Development and Housing Sites, Workforce and Entrepreneurism, Connections and Gateways, and Infrastructure.
OurSIRDA is a collaboration of five counties that includes Clark, Floyd, Jefferson, Scott and Washington counties. "We formed our RDA in 2017 when there was no incentive, no carrot, nothing to really motivate us. It was our own motivation. We are pleased to present to you the results today," said Dana Huber, OurSIRDA chair, during Friday's presentation.
Afterwards board member Kevin Kellems, who represents Jefferson County on the board, said "the final presentation by the Our Southern Indiana Regional Development Authority to the state's judging panel was effective."
Kellems, who attended the Friday session in Indianapolis, said, "I am optimistic about our chances of being selected for this transformational funding — due to the degree of regional collaboration we demonstrate; the viability of specific projects we propose, and the impressive value-add brought to the table by stakeholders and advocates from Jefferson County."
Madison Mayor Bob Courtney led the portion of OurSIRDA's presentation on destinations. In his presentation, Courtney said, "On behalf of the 12,000 residents of Madison, we are thrilled to partner with you, the RDA, the five-county regions that comprises this READI proposal."
"Destinations are those areas that are truly memorable and will make our region standout, the places we congregate to enjoy life with one another and we know southern Indiana already has good destinations. Well, we can make them great through READI. With help with READI funds, we'll build great destinations throughout southern Indiana," he said.
"Enhancing our downtowns and really emphasizing our small-town quality of place by expanding our offerings of entertainment throughout the district," Courtney said. "Also, by promoting very unique visitor experiences."
Courtney specifically spoke about Madison and how the READI funds would benefit the city. He told READI committee members, "A lot of you are already familiar with Madison. Madison is already a destination hosting over 300,000 visitors a year. The economic impact from our tourism economy is over $40 million a year. But why settle for that? We know it can be much bigger, better and greater. That's what READI will do for us."
A video followed that talked more about how the READI funds would help Madison. "This project is going to accelerate the path that we've been on. This planning is critical for our population growth. It really makes it the regional gem that we know it's always been," Courtney said.
The portion on Workforce and Entrepreneurism was presented by Tyiana Thompson, vice chancellor of enrollment services at Ivy Tech Sellersburg, who highlighted two projects that involve Ivy Tech — the Family Scholar House project at the Sellersburg campus and the Veterinary Teaching Center that's a joint project of Ivy Tech Madison and Hanover College.
In that part of the presentation, Hanover College President Lake Lambert was interviewed. "In the United States, there are only two schools of veterinary medicine. Many highly qualified candidates that want to be veterinarians have to go abroad to seek a veterinary education."
Lambert said the Veterinary Teaching Center "is an opportunity to recruit a lot more talent to Indiana by establishing the veterinary teaching center here. This teaching center is an innovative partnership between a private college and the state's community college system, Ivy Tech, using their Madison campus to offer two different degree programs, a doctorate of veterinary medicine program and an associates degree in veterinary nursing through Ivy Tech Community College."
Lambert said, "Indiana is an agricultural state, but it is also a state with a growing biotech agriscience industry. To support all of those needs, Indiana needs more trained veterinarian professionals, and this program is going to make that possible." Lambert said the "demand for these programs will serve not only Indiana students but also attract talent to Indiana to build out bigger opportunities for Hoosiers that Hoosiers will benefit from for years to come."
Another part of OurSIRDA's proposal that involves Jefferson County includes a workforce development plan involving industry expansion, new single and multifamily affordable housing, drinking water infrastructure, ADA accessible park improvements, and a focus on adult sport and outdoor recreation.
Following the presentation, there was an opportunity for questions. Courtney answered a question about the portion of OurSIRDA that provides for more housing.
"We're the fastest growing region in the State of Indiana," said Courtney. "We're already making up for lost ground in regards to our housing needs. We have a growing workforce, growing population, so building new housing units will help us to accelerate population growth even further, but also provide more housing opportunity around specific price points without diminishing the occupancy rates of the existing housing."
Courtney said housing "is one of the greatest needs across all of our communities. Small and large, and it is housing because we are also preparing and experiencing growth."
He said the five counties in the Our Southern Indiana Regional Development Authority "offer something unique I believe in southern Indiana relative to the rest of the state. That is a unique quality of life." Courtney said today's "workforce wants to identify a high quality of life, where they're going to live, that's going to create the demand for the workforce there. It's not the old school where people move for their jobs anymore. Where they live is the top priority. We believe we already are fighting a limited supply that we need to invest in."
Switzerland County is part of the SEI READI region that also includes Dearborn, Franklin, Ohio, Ripley and Union counties. SEI READI gave its presentation last week on Monday, Nov. 29. Among the projects in the plan impacting Switzerland County is the Vevay Flats project that would create 48 new entry-level market rate apartments and the Switzerland County workforce housing that would add 111 single-family housing units to the county. The plan also includes for updates to the Florence Regional Sewer District. Additionally, it seeks assistance for improvements to the Switzerland County Technology and Education Center. Another project is a culinary hospitality project based within Belterra Casino Resort and/or the Ogle Haus for culinary/restaurant and hotel/business students.
An announcement by the IEDC of the READI grant awards is anticipated later this month. The next meeting of OurSIRDA will be at 10 a.m. on Friday, Dec. 17, at Madison City Hall, with the hope that the region will know by then if it is one of the fortunate recipients of the READI grant.