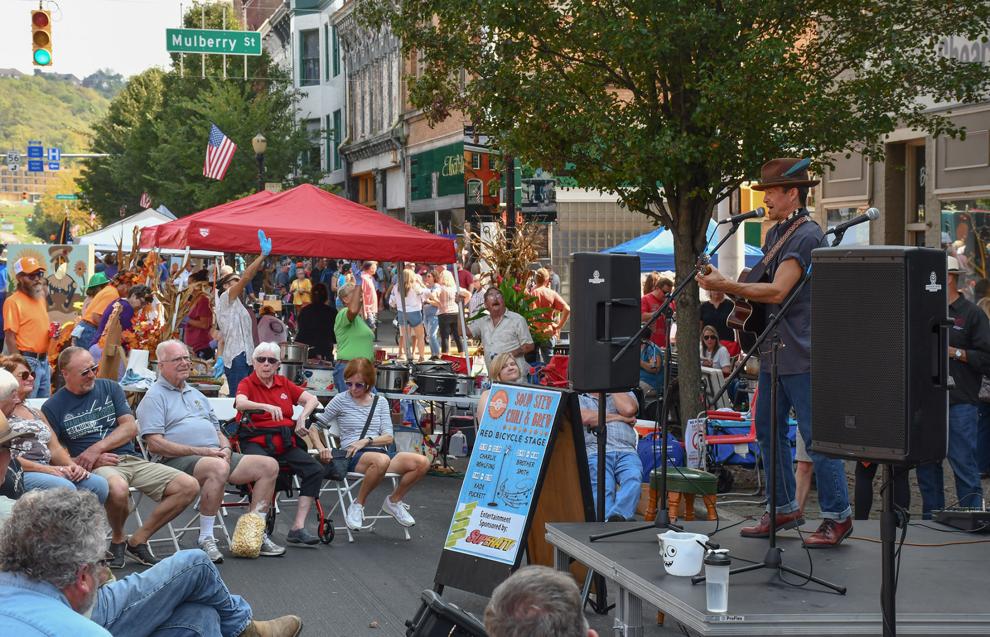 The day could not have been more perfect for the 19th annual Soup, Stew, Chili and Brew Festival in downtown Madison. Beautiful weather, good food and drink and a lot of happy people supporting local non-profits and businesses.
"It was a beautiful day with great weather, great food and great musicians," said Emilee Roberts, executive director of the Madison Area Chamber of Commerentce which organizes the event. "I heard a lot of positive feedback from everyone involved. I take it as a win."
Soup, Stew, Chili and Brew is traditionally the only Madison festival on Main Street, and Roberts said the day went "incredibly well" for downtown businesses. "That's why we love having it on Main Street."
Roberts said the Chamber will be counting tickets and money this week, but all indications are that it was the best crowd ever. She said local musician Rusty Bladen, a longtime performer at the event, called it "a record crowd" from his perspective.
For the cooks at the Samuel Woodfill American Legion Post No. 9 Auxiliary, it could not have been a better day. The auxiliary won awards for best decorated booth along with best soup and third place for best stew.
"I think we did exceptionally well" in not only winning prizes, but also with the successful sales during the event, Gina Copeland, president of the Auxiliary, said. "You can't beat that."
All proceeds from the day's sales by the Auxiliary go back to the community through their programs for veterans in which they give presents to veterans in nursing homes at Christmas, along with "Adopt a Veteran Family".
"Our heart and soul is with the veterans, but we also donate to the community," said Copeland. "If there is some organization in the community that needs help, we're helping there too."
Copeland credited LaVerne Copeland, the organization's financial officer, for the winning fall decorations on the booth. The Auxiliary, participating for just the second time in the event's history, received first place for its fisherman's stew and third place for a taco soup.
Autumn Trace Senior Communities was winner of the best soup with its Italian sausage white bean soup. Autumn Trace, which opened in Madison in the summer of 2020, was participating in the event for the first time.
Other soups were tested by Autumn Trace employees to decide which to submit to judges, and the Italian sausage white bean soup, a recipe created by Callie Keeton, was their favorite. As it turned out, it was the favorite of the judges. Keeton said they also got compliments on the soup from customers. "We had one guy come back four times, and each time he asked for a large bowl," she said.
Overall, Keeton said it was a "fun day" for the Autumn Trace Soup, Stew, Chili and Brew team. "We're excited to be here and participating."
The Troublemakers, a family operation, was winner for best chili. Mark Darnold said the Troublemakers booth was actually a family effort by the Darnold and Obendorf families in the area with the "troublemakers" name in jest — something he said people would jokingly be refered as back when he was in school.
Darnold, who has a farm in northeastern Jefferson County in Shelby Township, said the family has been participating in Soup, Stew, Chili and Brew for seven years, each year using the same recipe that includes onions and two types of peppers. Darnold said he tweaked the recipe a couple of years ago, and "that seemed to have paid off."
Darnold also served tomato basil soup at the family booth along with optional grilled cheese with or without bacon. He said they also have fried biscuits with cinnamon sugar and a side of apple butter, which Darnold thinks if a dessert category is ever added, they might have a chance at an award there.
The winner for best brew was Main Street business Gallery 115, which won for Hot Cinnamon Spice Apple Cider. Owner Peggy Phagan said it's a combination of hot cinnamon spice mixed into the apple cider.
Phagan said Gallery 115 has participated in Soup, Stew, Chili and Brew every year since opening Gallery 115 on East Main Street in April of 2012, but it's the first time for receiving an award. "I had someone follow me from the awards, and tell me he wanted to try the apple cider. He told me, 'The judges were right, it was the best', and then asked for a second cup."
Awards were also given for second and third place in each category. In soups, River Valley Community Church was second with its loaded potato soup and American Legion Auxiliary was third with taco soup. In stews, North Madison Fire Company No. 5 was second with its goulash stew and Jefferson County Democratic Party was third with its Hoosier goulash stew. In chili, the Madison Community Players was second with its spicy chili and Steinhardt Heating and Cooling was third with its chili.