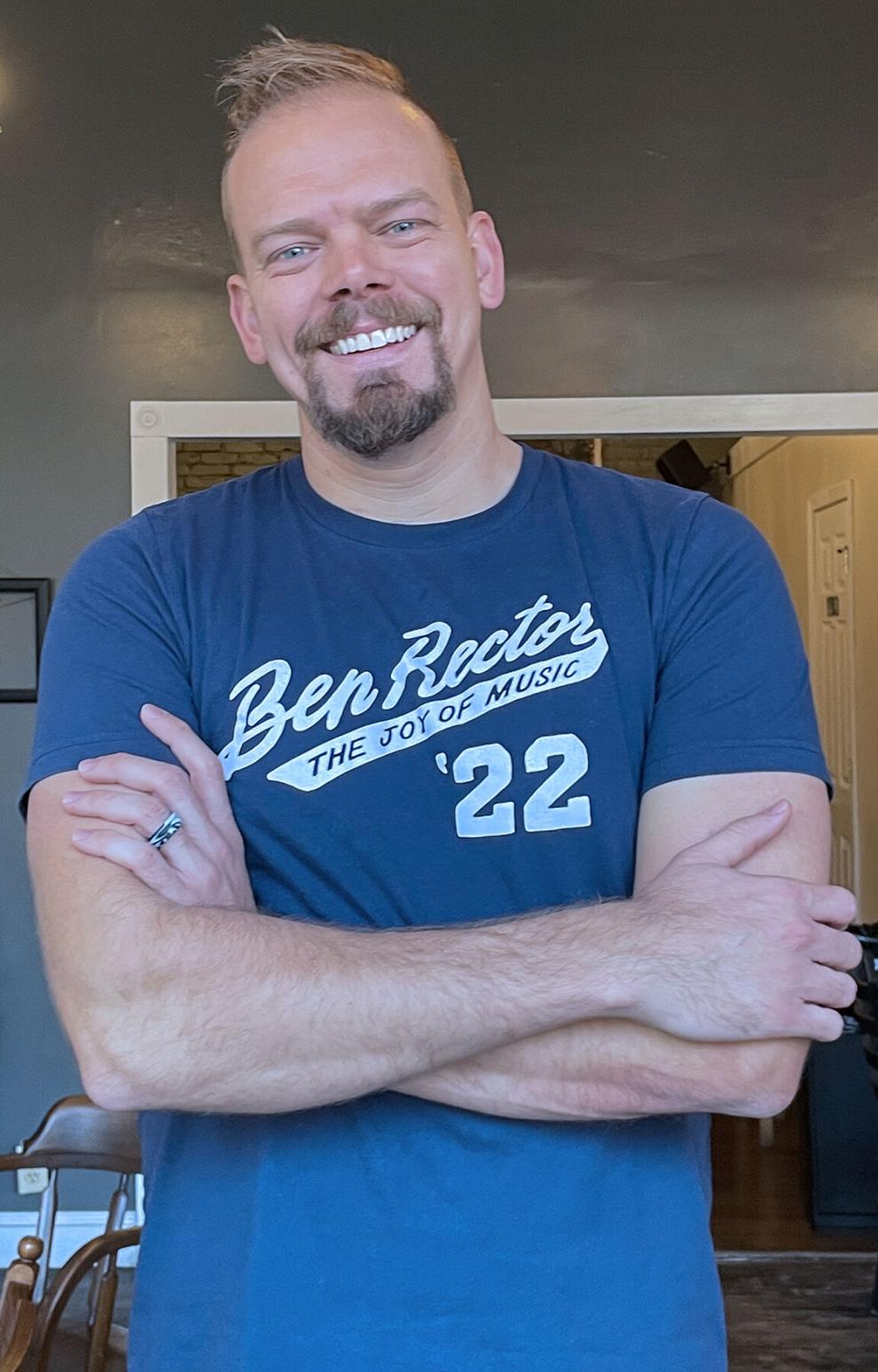 Zach Shelton wears a lot of different hats. This time of year you may know him from wearing a Santa hat playing The Grinch. Zach was featured in this year's Christmas Parade as The Grinch, and he's been appearing all around town in character at various events.
You may know him as the worship pastor at North Madison Christian Church, where he directs the music programming and then many holiday productions such as the Easter and Christmas shows.
Some folks will probably remember Zach from his days in the Christian rock band "64 to Grayson" where he toured year around from New England to Florida, sometimes playing as many as 200 shows a year.
But I know him as a guy just sitting out in front of The Attic Coffee Shop one warm fall day just a few weeks ago, strumming his guitar and filling the street with his amazing singing and playing. I happened to be riding by on my bicycle, and I thought to myself, "Now there's a Charlie's Beat story if I've ever heard one!"
Zach is a Zanesville, Ohio, boy who headed down to Kentucky Christian University for his higher education, a decision that would set the path of his life from then on. "They have a really good music program at KCU," says Zach. "I'm pretty much from a musical family, so I knew that was the direction I wanted to go.
"My dad was in a southern gospel quartet, so I grew up around that influence. My grandpa was a Baptist preacher. And my great uncle, Benjamin Franklin Shelton, recorded a number of songs during the original Bristol Sessions, which were sort of the birth of country music.
"Anyway, Kentucky Christian was a great place to meet like-minded musicians, plus I met my wife, Lindsay, there. I started a country band called 64 to Grayson and we began traveling some. In the summer of 2012 we did 60 shows, so we knew we were onto something. We had a sound and a message people wanted to hear.
"The next seven years were kind of a blur, up and down the eastern part of the country, mostly playing in churches but not always. There were some bars and clubs too. It was pretty much just playing and driving, playing and driving, not really getting home too much.
"Lindsay and I started having kids during that time on the road, and by 2019 it was just too much. It was time to find a church to call home and settle down. Fortunately, my guitar player in the band knew about a job opening at North Madison Christian. I applied and got my first real 'day job' as Worship Pastor.
"It's a pretty big job. There can be as many as 120 technicians and musicians needed to stage the big multi-media events, like the Christmas show. In fact, the mini-orchestra at Christmas is about 75 people. It's quite the extravaganza, not a dull moment!
"We've really enjoyed getting to know Madison and becoming part of the community. We were too transient before to really settle in and make friends. But we are doing that now. We're becoming vested in the place. Madison is a gem!"
Hot Tip of the Week
First, a word about the Charles Wesley Godwin show at Red Bicycle Hall last Friday. It was, without a doubt, one of the best shows ever staged at The Bike. Remember that name. I have a feeling we'll be telling our friends someday, "Back before he became famous, that guy played in Madison in front of 200 people!" Now, looking forward, it's time to think about your New Year's Eve plans. As of right now I know about Tim Brickley and his band playing down at the Cotton Mill Fairfield, Rusty Bladen is playing at Mad Paddle Brewery, and there is an AC/DC tribute band playing at Rivertown Grill. If I hear about any more parties I'll put it on the Big Music Calendar, available at MadisonMusic.org.
Charlie Rohlfing is a retired advertising man and partner in The Red Bicycle Hall music venue. Look for his distinctive fedora bobbing above the crowd, anywhere live local music is happening.
This Week in Music
Tuesday, Dec. 27
Off-Broadway Taproom — Open Mic Night