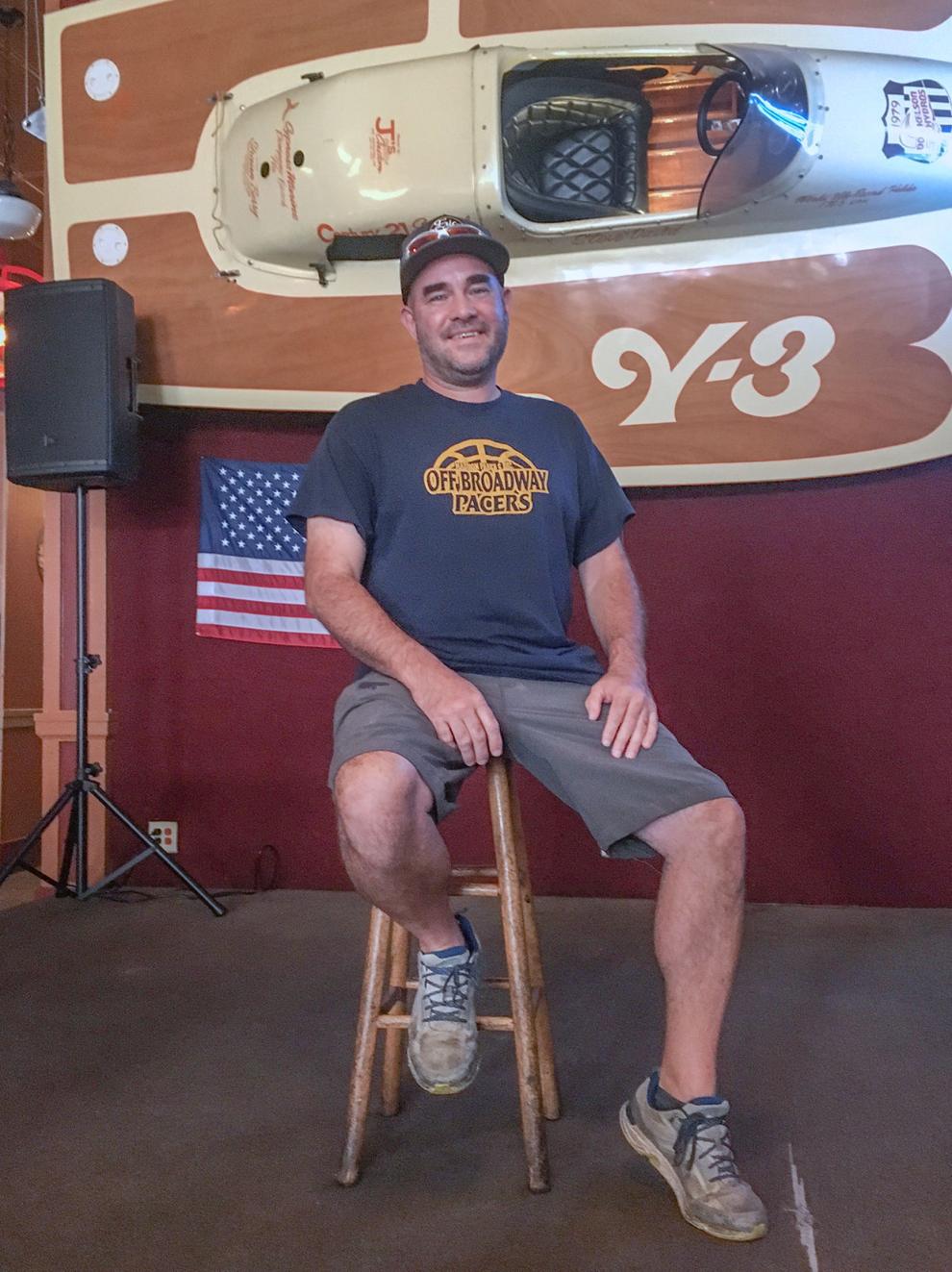 "Amy Noel is a great example," says Ryan Shaw, manager of the Off-Broadway Taproom and the driving force behind the Taproom's live music schedule. "I believe she sang for the very first time in front of an audience at one of our open mic nights a couple years ago. Now she's The Famous Amy Noel, playing gigs all over town.
"Open mic nights have always been an integral part of the culture here at the Taproom, and even before that, when it was JoeyG's. For years people of all ages and all skill levels would take the stage and share their talents." (In fact, my very first time singing on stage was back when John Walburn was the weekly open mic host at JoeyG's.)
"But then COVID threw a huge monkey wrench into everything," Ryan continues. "I can remember the exact date, March 10, 2020, was our last open mic, and all our music was shut down by that weekend. It feels so good to be opening back up and getting the music going again.
"Going forward we'll have the open mic every Tuesday, then solo acts and bands on Fridays and Saturdays, and it's just a matter of time before we add back Thursdays and Sundays, just like before. Live music five nights a week.
"Jimmy Davis will be the host, so some of the people will also get the thrill of a great guitar player backing them up when they play. Jimmy is super chill, and he makes everybody feel comfortable and welcome on the stage.
"I feel like the open mic forum is an important part of the community music scene. It gives a lot of people a chance to sing and play who might not otherwise get the opportunity. Plus we've found a lot of music acts through open mic that we later hire for the weekends.
"I'd like it to really catch on to the point we have 10 or more musicians in here on Tuesdays, waiting their turn at the mic."
Davis was the open mic host before COVID shut it down, and he's looking forward to getting things going again. "I'm more excited now than ever before," Jimmy relates. "There are more musicians living here than ever, more young new talent, and more energy around the music scene.
"This time out I'm going to bring in two of my great friends to help out, Danny Cook playing bass and Kerry Mefford on drums. It will give open mic singers a chance to do their thing with a full band behind them, and a really talented band at that. In fact, we want to encourage singers who may not even play an instrument to come out and give it a try. If we know the song, we'll back you up on it.
"The process is super super easy. Just come in on any Tuesday night and let me know you're here. I'll put you into rotation for your turn on stage. You can do one song or do three or four, whatever you want. And everybody gets to play, we make sure of it.
"Once people do it just once they get over the shyness and they are eager to do it again. It's like a dam bursts and all the pent up songs just flood out. I feel like it empowers people to grow as musicians and as people. I'm so glad we can bring an open mic back for all of Madison to enjoy."
HOT TIP OF THE WEEK
This Saturday in Madison will present a dilemma to any die-hard music fan. You'll need to choose from top musical talent happening at four or five places at once, including blues master Jason Wells at Mad Paddle and funk princess Joslyn & the Sweet Compression at Red Bicycle Hall. The band at Thomas Family, Dawson Hill, features several guys from Mickey Clark's old band. And if you're looking for something more intimate and even sing-along fun, check out Joe Perkinson at the Riverboat Inn. The music calendar is "phat" again, and Madison is in full swing!
Charlie Rohlfing is a retired advertising man and partner in The Red Bicycle Hall music venue. Look for his distinctive fedora bobbing above the crowd, anywhere live local music is happening.
This Week in Music
Thursday, June 10
Mad Paddle Brewery — Michael Tetrick
Broadway Tavern — Joe Perkinson
Elks Lodge — Live music (open to public)
Friday, June 11
American Legion — Full Moon Rising
Lytle Park — Live Lunch, Tommy Alexander (11:30 a.m.)
Mad Paddle Brewery — Broken Spokes
Riverboat Inn — Joe Perkinson & Deano Crafton
Off-Broadway Taproom — Jordan Wilson Coalition
Bicentennial Park — R0man T0ast
Saturday, June 12
Farmer's Market — Tradesmen Duo
Mad Paddle Brewery — Jason Wells Band
Thomas Family Winery — Dawson Hill
Red Bicycle Hall — Joslyn & the Sweet Compression
Riverboat Inn — Joe Perkinson
Off-Broadway Taproom — Joe Clark
Sunday, June 13
Lanier Mansion Lawn — Trauma Illinois
Wednesday, June 16
Elks Lodge — Amy Noel (open to public)