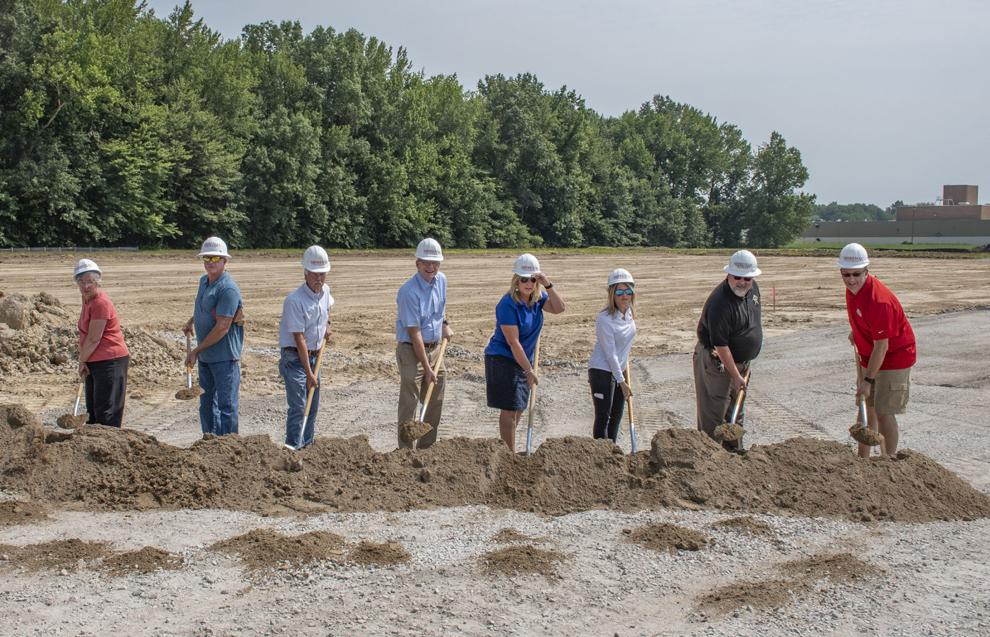 Local officials broke ground on the new Jefferson County Sheriff's Office and Criminal Justice Center Friday morning, signaling the beginning of a construction project slated to be completed in 2023 at a cost of up to $45 million.
"It's been an interesting road to get here," Commission President David Bramer said of the project, which began in 2017 when state officials told the county to correct its jail overcrowding or face penalties.
"Something needs to happen with our jail" and they have worked to make sure it's all done in the best way possible every step of the way, Bramer said.
A process that began with a feasibility study, continued with site acquisition, needs assessment, design and project management, finance and bond sales, bid advertisement and approval finally resulted in shovels being turned at the site, 1150 J.A. Berry Lane on Madison's hilltop.
"This facility is going to be set up in an efficient, management style that allows for the safety of our officers," said Sheriff Dave Thomas.
For example, Thomas said there will be a recreation area which each inmate will be able to access for required recreation time in close proximity to a cell. "It will provide for officer safety and efficiency of time," said Thomas. "Instead of taking a week for required recreation time, it can be done in two days, and maybe one."
"There are reasons we are here doing what we are doing today," Council President Pam Crozier said. "Primarily, we want to protect our jail staff from overcrowding of the jail we now have, and from injury and harm."
However, she added that the current jail is not large enough to sufficiently house the county's inmates, so the county has to send the overflow to other jails, paying for their housing and transportation. "We need to keep them in Jefferson County, and keep those dollars in our county," Crozier said.
Crozier also expressed appreciation to county residents and their support for the project. "It's with you and your voices of support that this couldn't have been done," she said.
Scott Carnegie, representing DLZ, the jail's architectural firm, commended county officials for "having the courage it takes to start a project like this. Jails are not popular, but they are a necessity." He noted the 300-bed, 84,779 gross square feet facility is designed so that it's capable of expanding.
Owner's representative Jack Krouse has been working with the county on the jail project since 2019 and will continue to be involved until it's completed. "I have been constructing jails since 1980, and I can honestly tell you that in all the projects without a doubt, this is the smoothest a project has gone of any I have ever been involved."
Shireman Construction's Mark Shireman, construction manager for the project, said he's "honored to be on this team.
"This is going to be a great team," Shireman said. "We work well together and will continue to work well together."