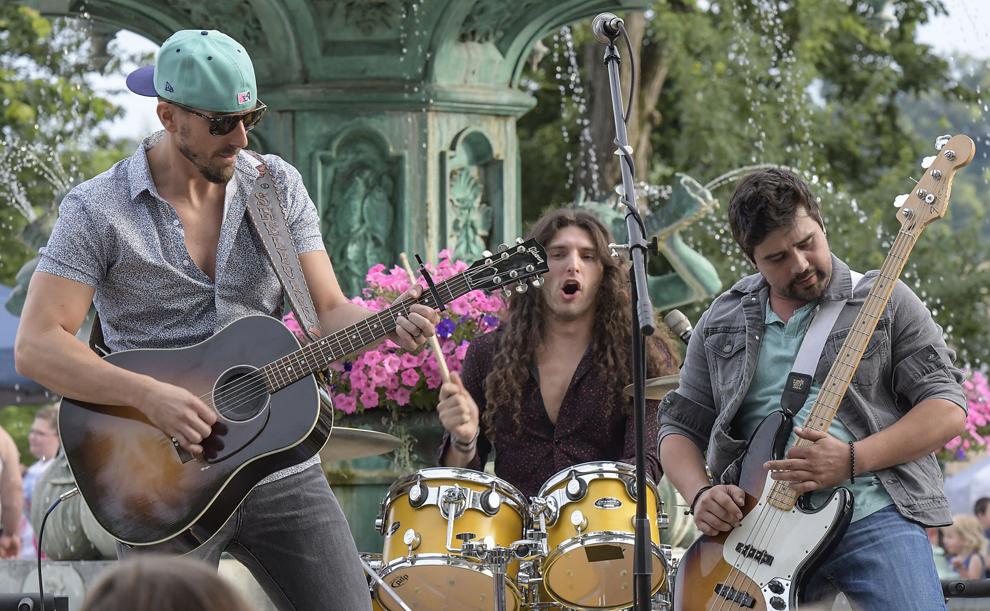 "I still have my 502 area code, JD Shelburne proudly tells me, as I reach him by phone on the road. "My Nashville friends all kid me and say I should get a Nashville number, but I tell them my Taylorsville, Kentucky, roots are deep and I'm sticking with it forever."
JD's Madison roots are pretty strong too, as he explains.
"I was playing at Madison Regatta about 9 or 10 years ago, and Amy Bibb was on the music committee that booked me for the show. I'd actually seen her picture somewhere before I came to town, and I was anxious to meet her.
"Her dad is Danny Bibb, he works at Madison Precision, so some people might know him. He used to work the door at the Electric Lady back in the day, too. Anyway, Amy and I hit it off right away and started a sort of long distance relationship while I was on the road and living in Nashville.
"I guess you could say things worked out. Her name is Amy Shelburne now, and our son Jax is 10 months old. Since that first time I played at Regatta I guess I've been back to perform about once a year. This year I'm actually coming twice, first for the Music in the Park show on August 13, and then the Shawe Festival on September 10."
For those of you not familiar with JD's career, he's a rising star on the Nashville scene with numerous songs and videos charting on CMT. He's also been recently honored with a display at the Kentucky Music Hall of Fame and garnered praise from Kentucky Gov. Andy Beshear for his accomplishments.
"We're really rolling right now," JD continues, "probably we'll do around 215 shows this year. We recently had the honor to open for ZZ Top over in Louisville, and as it happens we were the last band to open for the original trio, as bassist Dusty Hill passed away very soon after."
At this point I asked JD if he had any advice for our aspiring young Madison musicians, especially those contemplating a move to Nashville.
"Yes I do. I can give several pieces of advice. First, before you even think about leaving your hometown, build up a strong local fan base. Then you have a foundation that will support you when you go off to Nashville and come back later.
"Secondly, I would say it's crucial to have a good, professional website. Fans and booking agents will judge you based on how it looks and feels. Put the energy and resources into a good solid web presence.
"Thirdly, after you come to Nashville, you need to leverage that address in everything you do. Being a 'Nashville artist' carries a lot of weight with band bookers, and it can lead to better paychecks, too.
"And finally, if you are lucky enough to find some success, keep your humble roots in mind. I've met some big names who are just not fun to be around. And then I've met people like The Oakridge Boys and Steve Wariner who are just as friendly and courteous as you could want.
"That's my goal in this business. I want to make it big, for sure, but I hope to never forget that 502 area code and the down-to-earth Kentucky home that I came from."
Hot Tip of the Week
OK, this might be a record for the weekly music calendar. There are 21 live music events in the next seven days. TWENTY-ONE! You'd almost think we were a music town or something. Two of the classic summer events are happening this weekend, starting with Music in the Park on Friday, featuring JD Shelburne and then Music at the Mansion on Sunday with Ed "Sax" Thomas. Both of these events are super family friendly where you can bring your own chairs and cooler and just hang out. And both are free! On Saturday you have seven choices, starting in the morning at the Farmers Market, and ranging all the way across the river to Richwood. Oh, and check out the Doctor's Band at Riverboat Inn, that should be a raucous good time.
Charlie Rohlfing is a retired advertising man and partner in The Red Bicycle Hall music venue. Look for his distinctive fedora bobbing above the crowd, anywhere live local music is happening.
This Week in Music
Thursday, August 12
Mad Paddle Brewery — Tracy & Elaine
Broadway Tavern — Joe Perkinson & Deano Crafton
Grote Industries — Robert Reynolds & Darryl Hewitt (11 a.m.)
Friday, August 13
American Legion — Amy Noel
Mad Paddle Brewery — Shift Bit (after party 9:30 p.m.)
Red Bicycle Hall — Them Dirty Roses
Bicentennial Park — JD Shelburne
Riverboat Inn — Joe Perkinson & Deano Crafton
Off Broadway Taproom — Noah Smith & Brandon Gray
Central Hotel — Robby Cox
Saturday, August 14
Farmers Market at Broadway — Bob Adams & Brook Reindollar (10 a.m.)
Lighthouse — Jimmy Davis
Mad Paddle Brewery — Brooke Hall
Thomas Family Winery — Rivertown Ramblers
Riverboat Inn — Doctor's Band
Richwood on the River — Zeb Haggerty & Friends
Central Hotel — Tyrone Cotton
Sunday, August 15
Stream Cliff Farm — Robby Cox
Lanier Mansion — Ed "Sax" Thomas
Mad Paddle Brewery — Acoustic Crossroads
Tuesday, Aug. 17
Off-Broadway Taproom — Open Mic Night