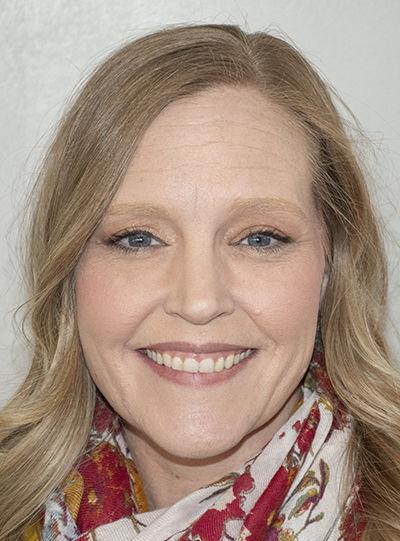 After Congressman Trey Hollingsworth announced that he would not seek reelection in Indiana's 9th District, a slew of Republicans and Democrats announced candidacies for that seat.
Erin Houchin was initially one of two Republicans to file candidacy in the district, but in the two weeks that followed seven more filed to now make it a nine-person race, six entering in the last week of filing.
Houchin was in Madison last month to talk about this year's 9th District Congressional District campaign. She noted she was not surprised by the huge turnout for the seat. "Not in an open congressional seat; the fact there will be a lot of people that vie for it, and will try to be the nominee," she said.
Hollingsworth, who has served as the 9th District Congressional representative since being elected in 2016, announced Jan. 12 he would not seek reelection. The next day, Bill J. Thomas of Corydon, who sought the office as a Democrat in 2014 and 2016, had filed as a Republican, then Houchin on Jan. 18 and former Congressman Mike Sodrel on Jan. 24. Then, in the last week of filing, the number of candidates ballooned with six more entries including Stu-Barnes Israel, J. Michael Davisson, D. Eric Schansberg, Dan Heiwig, Brian Tibbs and Jim Baker.
Meanwhile, there have been three candidates file in the Democratic primary for the 9th District Congressional District seat — Isak Asare, Liam Dorris and Matt Fyfe.
"Campaigns are always challenging," Houchin said. "They are all different and unique. I think in this particular case I stand out among the pack for an obvious reason, I'm the only female candidate in the race. But I also have a proven record of fighting for conservative values and that sets me apart, too."
Houchin previously sought the 9th District Congressional seat in 2016 when she lost to Hollingsworth in a five-person primary. "We came in a close second place to Congressman Hollingsworth," she said. "I learned a lot in that effort and I think it made me a better legislator in the process." She said that her previous campaign for Congress helped her to be more prepared when Hollingsworth made the decision to not seek reelection, noting it "helped me to be able to launch very quickly and campaign from day one."
When Houchin ran for Congress previously, the 9th District did not include Jefferson and Switzerland counties, but following redistricting after 2020, both counties are back in the district that they had been a part of for many years prior to the last decade.
Houchin, of Salem, said she's very familiar with this area. "I am happy with the new Congressional district," Houchin said. "I grew up in Scott County so Jefferson County has always been a neighbor. I know it well. I work with a lot of folks over here including Mayor (Bob) Courtney and others that are supporting the campaign."
Houchin has been working with local officials including Courtney and Jefferson County Prosecutor David Sutter through her communications company, Contend Communications & Development LLC, with just three employees including herself. "We provide public relations and communication services to a variety of clients, but mainly in the law enforcement space, and for local governments," said Houchin, who characterized her work as "helping people tell their story."
Houchin's husband, Dustin, has served as Washington County Prosecutor since 2006 and she said she is "particularly passionate about helping our law enforcement communicate the hard work that they do, the dangerous work that they do, the selfless work that they do on behalf of our communities and being there to be a support for them," she said.
Former Congressman Mike Sodrel is a candidate who has experienced what it's like to serve in Congress, defeating then incumbent Democrat Baron Hill by 1,500 votes in 2004, and serving one term. But Sodrel lost the general election in 2006 and 2008 to Hill, and then in the 2010 Republican primary to Todd Young, who now a U.S. Senator.
J. Michael Davisson of Salem was appointed to the state House Oct. 21 to fill a vacancy created by the death of his father and former Rep. Steve Davisson, and now is running for Congress. Davisson served in the U.S. Army for 17 years, earning the Combat Infantry Badge, the Meritorious Service Medal, the Army Commendation Metal five times, the Army Achievement Medal, and more honors. He presently operates Good Living Pharmacy in Salem as president and CEO with his brothers.
Brian Tibbs is a former senior pastor at Charlestown Independent Church who filed in 2020 for Indiana state representative in the 66th district, losing to Zach Payne by less than 300 votes in the primary. Payne went on defeat incumbent Terry Goodin in the general election.
Daniel Eric Schansburg is a professor of economics at Indiana University Southeast, who previously ran for Congress in 2006 and 2008 as a Libertarian. He's the author of two books on public policy — "Poor Policy: How Government Harms the Poor" and "Turn Neither to the Right nor to the Left: A Thinking Christian's Guide to Politics and Public Policy," along with numerous articles for journals.
Jim Baker, Charlestown, is a business owner and commercial real estate broker.
Stu Barnes-Israel, Greensburg, served seven years of active-duty military service, serving in Afghanistan, and also in Germany and at Fort Huachuca, Arizona, on the U.S.-Mexico border.
Dan Heiwig, Seymour, has served as an infantry officer and enlisted soldier in the U.S. Army for more than 20 years.
Bill J. Thomas, Corydon, previously ran as a Democrat for 9th District Congress in the 2014 and 2016 primaries. In his website from his previous campaigns that still references when he was a Democrat.
All three Democratic candidates Asare, Dorris and Fyfe — are from Bloomington.
Dorris previously ran in the 2020 Democratic primary in which Andy Ruff was the nominee who went on to lose to Hollingsworth in the general election. Dorris served four years active duty in the U.S. Marine Corps
Asare serves on the Indiana University faculty as co-director for the Cybersecurity and Global Policy Program.
Fyfe is a teacher and is emphasizing his experience in education as a means to bring people together.
Jacob Bailey, a Bloomington elementary teacher, has filed to run for the Green Party during the general election.