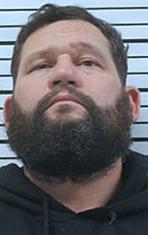 A local man who was convicted of fraud last year for leasing land that he did not own or have control over for $9,000 was convicted last month of forgery by a Jefferson Superior Court jury and sentenced last week by Judge Blaine Goode.
Harve Hensley, 44, who has resided in Deputy, Indiana, most of his life but has also listed addresses in Columbus and Terre Haute, was found guilty by a six-person Superior Court jury on Jan. 19 on an amended charge of forgery with intent to defraud, a Level 6 felony.
Goode sentenced Hensley on Feb. 15 to 2 years at Indiana Department of Correction, fully executed, with credit for 14 days served. He also found Hensley indigent and waived fees and court costs associated with the case.
The judge noted three aggravators in his sentencing — a history of criminal behavior, a recent violation of pretrial release conditions and that the defendant premeditated the crime — with no mitigators.
The conviction by jury trial does allow Hensley to appeal both the conviction and sentence and he has 30 days to make that decision. He exercised that option last year after another jury found him guilty of Theft, also a Level 6 felony, in the case and he was sentenced to 2 years at the Indiana Department of Corrections, with credit for 144 days already served.
The earlier verdict and sentence were affirmed by the appeals court, which ruled the lower trial court did not abuse its discretion by denying Hensley's motion for a special prosecutor, that Hensley's conviction for theft, a Level 6 felony, was supported by sufficient evidence and that the sentence was not inappropriate to Hensley's offense and character.
Hensley was charged with leasing land that he did not own or have control over to a grain farmer for $9,000. When the farmer showed up to plant the leased field, he found the ground had already been planted and learned that Hensley was not the rightful owner or controller of the property. When he asked to have his money refunded Hensley said it had already been spent.