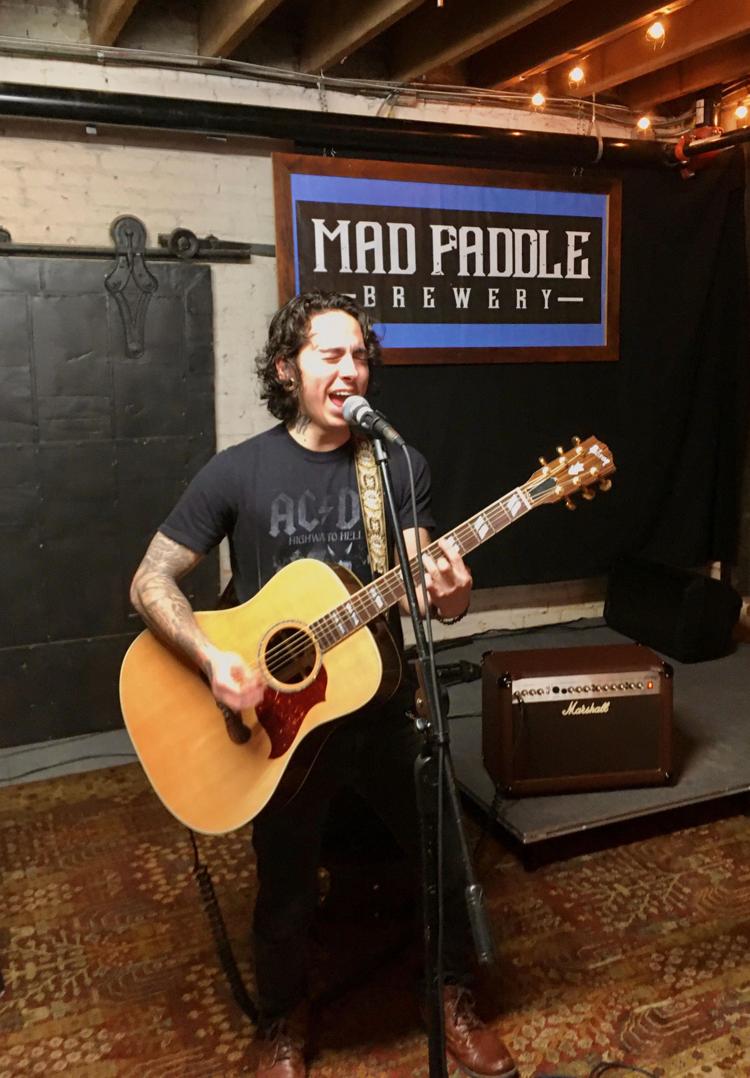 Another talented troubadour has joined the live music scene. Daniel Taylor, who goes by the stage name Troubadour D, moved to Madison about a year ago to be with his girlfriend (local resident Tasha Lanettee) and to start playing out in Madison's many vibrant live music venues.
Daniel is originally from Ft. Collins, Colorado. It seems Tasha is the sister of a best friend, but there is also a connection to locals Danny and Bri Adams (who are both also musicians) and Will Warren and all of them playing together in a church in Clovis, New Mexico and … you get the idea. Against all odds, he ends up in our little music mecca.
"I also came to Madison for Ribberfest a few times before I moved here. My dad is a huge Michael Kelsey fan and we came to the festival to see him play." adds Daniel. "Tasha told me about the music scene here and it seemed like the perfect place to launch my music career.
"My story is a bit different than a lot of younger musicians who come out very young. I'm actually 32 years old, and I've been sitting on the craft, writing songs and developing my personal style. I wanted to start things out right.
"I've also come to realize that to be successful, so much is dependent on the business of music, the relationships and communication. I like to say it's about 10% playing and 90% the other stuff. So I've spent a lot of time getting that part right, too.
"So about a year ago I decided I was ready. Time to come out from under my shell and start sharing my music. And from what Tasha was telling me, there's no better place for musicians than right here in Madison. But wow, as it turns out, it was not the best year to start.
"As everybody knows, COVID has kind of put a wet blanket on the whole music industry, not just in Madison but everywhere. Actually, things may be a little better here in Madison. Several places like Mad Paddle and Off-Broadway Taproom are keeping the flame alive.
"And I've met some great people who have been super encouraging, like Drew Eades, Dave Butler and Gary Applegate. And now Jerry Wade is giving me a chance to open for Keith Scott, which I really appreciate. I'm a big fan of Keith from way back."
(I'll jump in at this point and report on Daniel's first show at Mad Paddle, which took place last Friday, Jan. 8. Daniel delivered a tight opening set featuring original and cover tunes, and then sat in and jammed with the formidable Keith Scott, showing great style and enthusiasm. All and all an excellent first outing. He's a talented performer you'll want to see for yourself.)
"I have about an hour's worth of original songs," Danny continues, "and several hours of classic and eclectic cover songs. I like to choose covers that are a little off the beaten path, but still familiar. It's all part of being a troubadour, introducing people, especially the younger generation, to fresh music they may not normally listen to.
"At the moment I'm working with Joe Breek renovating the old Courtyard restaurant, and I'll be the cook there when it opens as the Rivertown Grill. But I'm also going up to Indy and recording an album at Postal Recording Studio. Lots going on and lots to look forward to. I think 2021 is going to be my year!"
HOT TIP OF THE WEEK
Just keep going to Mad Paddle if you are looking for consistent live music in Madison. Owner Jerry Wade is committed to Thursdays, Fridays and Saturdays and he is working very hard to keep the calendar scheduled, in spite of the many challenges. You should also keep a watchful eye on the Off-Broadway Taproom. They can't always give me an advance schedule for the calendar, but often as not they are getting live shows in there on Saturday nights. Thomas Family Winery, the longest running live music venue in town, is on a winter break, so just watch this column and I'll let you know when they are back up and running. Stay warm, and support live music!
Charlie Rohlfing is a retired advertising man and partner in The Red Bicycle Hall music venue. Look for his distinctive fedora bobbing above the crowd, anywhere live local music is happening.
This Week in Music
Thursday, January 14
Mad Paddle Brewery — Tracy & Elaine
Friday, January 15
Mad Paddle Brewery — Hunter Wainscott
Friendship Tavern — Josh Wells
Saturday, January 16
Mad Paddle Brewery — LCC with Leah Pruett