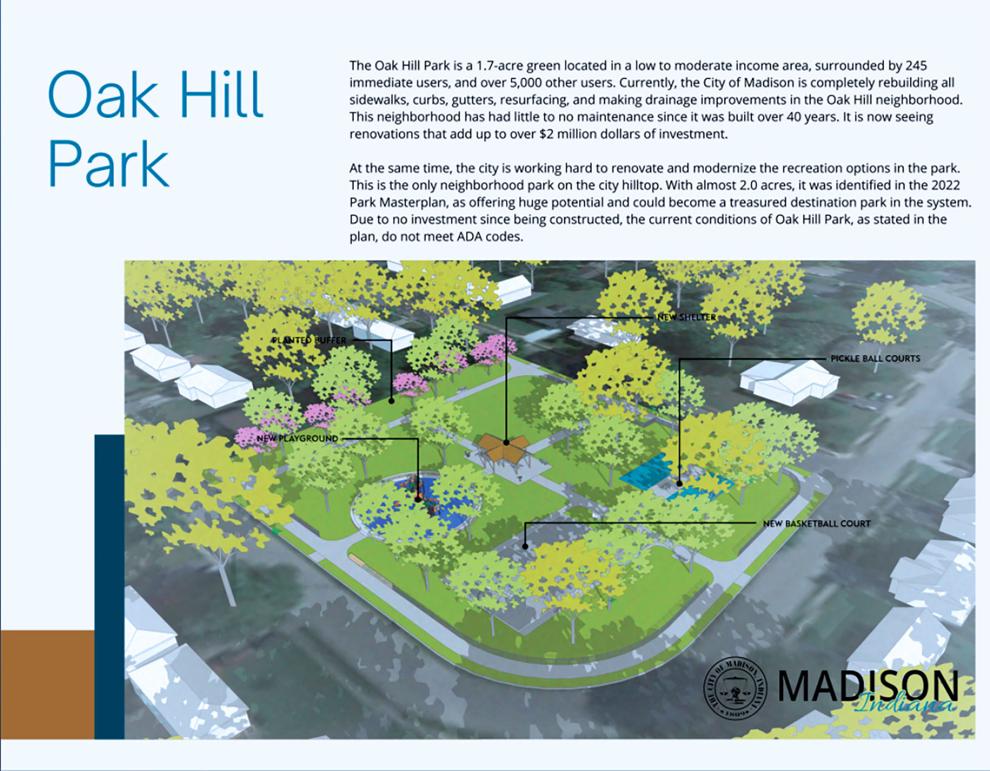 With streets, sidewalks and storm water drainage improvements well underway at Madison's Oak Hill neighborhood, Madison Parks Board on Wednesday held additional discussions on how to make the neighborhood park better serve residents of Oak Hill and the hilltop.
Parks Director Matt Woolard outlined several proposed park improvements scheduled to begin soon as part of the overall $2 million reinvestment in the 40-year-old housing development.
"We are excited to be working with the local community to reinvest in this asset and look forward to transforming it into a destination park and example of what our intention is with our other neighborhood parks," said Woolard.
"This is one of our neighborhood parks that we have identified within our master plan that needs updated," Woolard added. "It's suffering from decades of deferred maintenance. Investing in this seems the appropriate time and opportunity to really give back to the community for the people in that area."
Woolard said the 1.7-acre Oak Hill Park — the only neighborhood park on the city's hilltop — is surrounded by 245 immediate users, and 5,000 other users within close proximity. Currently, the city is rebuilding all sidewalks, curbs and gutters while resurfacing and making drainage improvements throughout the neighborhood.
After talking to residents of the Oak Hill community about their wants and needs for the park, Woolard said the priorities include new sidewalks, basketball courts and a shelter house located in the center of the park. Another priority is creating parking to make the site more accessible.
Woolard describe the current playground at Oak Hill Park as "abysmal" and equipment and surfaces are "inappropriate" and "unsafe" for children.
Funding has been allocated to fence the entire facility to just one or two points of entry for better security and safety.
"Overall, this will be a secure facility, much like how we did with Hargan-Matthews Park (at Vaughn Drive and West Street) with the gate entry points that the child cannot run out after a ball or something into the middle of the road," Woolard said. Within the park there will be additional fencing for a secured dog park to serve the hilltop on a smaller footprint than the city dog park located on Vaughn Drive downtown.
Woolard said the park plans call for benches, shade structures, picnic tables and trash cans.
Preliminary drawings for the park show a pickle ball court but Woolard said that facility is not included in the initial phase of park improvements but is planned for a second phase that could occur in the future. The park also does not include restrooms.
He said there have been discussions with three companies concerning new playground equipment — Columbia Cascade Company, Komplan and Sinclair Recreation.
Columbia Cascade primarily deals with timberform. "This is a more rugged, outdoor, wooded-looking structures," Woolard said. Komplan Concept Designs offered two designs with each including climbing structures. He characterized Sinclair Recreation as a playful art structure with various design elements.
They are "examples of what we have put together" but no decision has been made on what playground equipment will be selected, Woolard said.
Woolard said with proper upkeep and maintenance playground equipment can be long-lasting. However, he said the existing equipment at Oak Hill "hasn't been touched in decades. That's without proper maintenance. Most of stuff is in decent enough shape but it's not changed with the times. This is something that with proper upkeep and maintenance they can last for a few decades."
Woolard said that All-Star Paving, the contractor on the overall project, will lay out the park, along with construct the sidewalks. "That will be the last step of that overall streets project," he said. "Once they're done with that, it gives us free reign to start on our projects" with Oak Hill Park. The plans are to have the work in the park completed by next summer.
Madison Mayor Bob Courtney said there is a fundraising element to the plan for the park. Woolard's presentation indicated an estimated $400,000 budget for the Oak Hill Park — $220,000 in city funding and $180,000 from fundraisers, private funds and grants.
"This has been uninvested in for such a long time," said Courtney. "This is a whole new way of doing things with a complete revitalization of that neighborhood" through the infrastructure project. Now, they can also revitalize the park "and serve a lot of people."
In other business:
• Since the board's June meeting in June, two of the four board members have resigned, preventing a meeting in July due to a lack of a quorum until at least a third member was named. At the start of Wednesday's meeting, Courtney issued the oath of office to Jake Shockley as the newest parks board member, replacing Zac Laughlin who still resides in Jefferson County but has moved outside of the city limits.
The other board resignation was Joe Bronkella, former Madison Consolidated High School athletic director, who left that position to become athletic director at Center Grove. A board replacement for Bronkella still needs to be appointed. Bronkella had served as the parks board president, and his resignation resulted in the election of new officers. Previous vice president Carla Krebs was elected president and Phil Kahn was elected vice president.
• Woolard said the Daughters of the American Revolution have a project for landscaping at the original fountain location at John Paul Park. "They're just trying to beautify that area because it is a massive fountain area that's no longer in use. They're working through what that will look like."
Woolard said the paths have been refreshed at the park by the street department and work is underway to restore benches and lighting. "We're trying to keep John Paul Park with the theme it was intended to be" as a walk-through park "to take you out of everything else going on, and just relax and enjoy that scenic route."
• Woolard reported that plans to repair the Crystal Beach pool are still in the design phase. "We are actively working at that at this time. It's just taking some time, and we're doing our due diligence to make the best decisions we can with what we've got."
Courtney said the "structural integrity of the pool itself is compromised" and a plan is being developed to "extend the pool availability to the community for the next 50 years. It's an 85-year-old pool that's come to the end of its useful life. That requires a lot of engineering, a lot of geotechnical, a lot of design, architectural, and requires a financial plan. It's a multi-million-dollar asset to the community that we have to make the proper investment in." Courtney expects a plan for the pool to be proposed in the weeks ahead.
• Krebs inquired about progress on the historic buildings at Pearl Park which have been in a deteriorating condition. Jan Vetrhus, a member of the board of directors for the Jefferson County Historical Society, updated that discussions have been taking place now that the Jefferson County Preservation Council, which had been responsible for the buildings, is no longer functioning. Vetrhus said all of the buildings are now secured with locks.