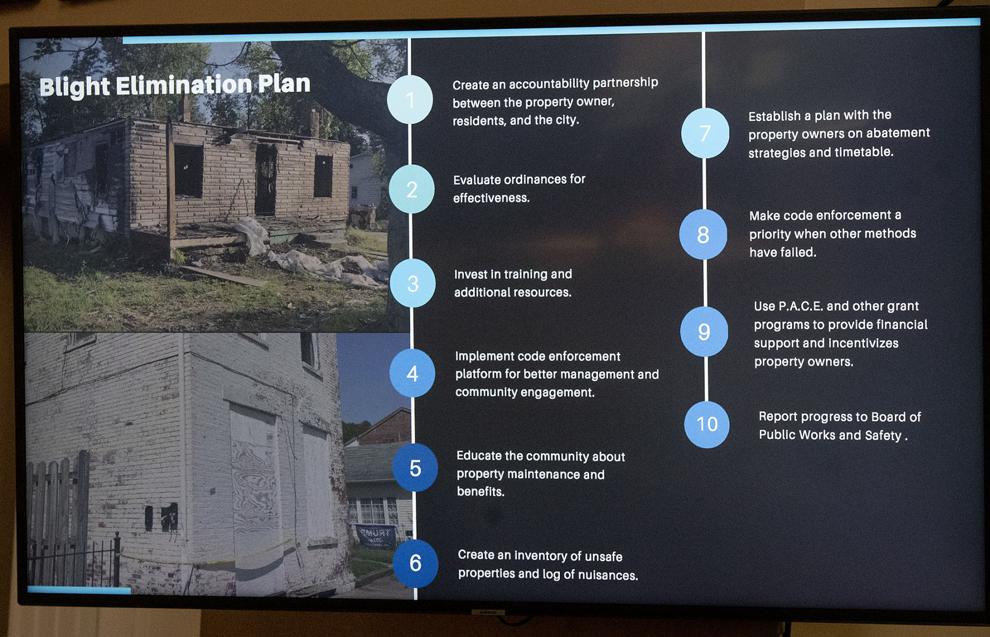 Citing the safety of citizens and the beauty of the community, Madison Mayor Bob Courtney made his case for a citywide blight elimination strategy in meetings this week with the Board of Public Works and Safety on Monday and City Council on Tuesday.
Courtney announced a 10-point plan targeting blight elimination and said his administration will be focusing on identifying "how can we create an even greater effort toward blight elimination throughout the community."
He noted the city's Preservation and Community Enhancement Program (PACE) has proven successful in providing incentives for property owners to rehabilitate and preserve buildings — spurring about $3.5 million in private investment so far — but the city also needs policies and code enforcement for use when incentives fall short of addressing blighted properties.
"Incentives and enforcement have to work together," the mayor said. "We are going to attack blight more aggressively in the coming months and year.
"Creating an accountability partnership between the city's code enforcement efforts and property owners is an important step in eliminating blighted properties," Courtney said. "Code enforcement is necessary when all other efforts have failed. We won't have the targeted outcomes we want if we are passive in our approaches."
He said blighted property — often occurring after a disaster such as a fire — can leave a structure in a situation of decay for decades if left up to some property owners to rebuild or clear what's left. He said that not only devalues that property and the neighborhood, it also attracts elements that make neighborhoods and entire communities less safe.
Courtney cited a structure in the 700 block of North Walnut Street as an example. The home, damaged by fire many years ago, has sat abandoned for at least 15 years and been a hangout for homeless people and drug users. More recently it was the site of a homicide in August prompting at least one neighbor to plead for the city to address the problem.
"It has been boarded up, abandoned, uninhabitable, gone through several fires and is an unsafe structure," Courtney said, noting that meanwhile much of the rest of the neighborhood has worked to renovate and beautify despite setbacks by flooding. "And the issue with blight across the community is that it generally attracts other negative behavior, whether it be people camping there, living there, or committing crimes in the area."
Courtney said city officials want to do all they can to preserve and protect Madison's historic structures and district but blighted and unsafe structures are a problem in a number of neighborhoods in the city.
"A property that is blighted has lost its value as a social good or an economic commodity or its functional status as a livable space," Courtney said. "Blight is a stage of depreciation; not an objective condition which conveys the idea that blight is created over time through neglect or damaging actions."
The mayor laid out a 10-point strategy to — a Blight Elimination Plan — to address the problems. The BPWS unanimously endorsed the plan Monday and the council was receptive on Tuesday. The plan includes:
1) Create an accountability partnership between the property owner, residents and the city. Courtney explained that the city must be "accountable to enforcing our ordinances. The property owner is accountable for maintaining the property."
2) Evaluate ordinances for effectiveness. "We have lots of governing ordinances in regards to blight," said Courtney, who expressed there is a need to be "more assertive" in cleaning up properties with blight.
3) Invest in training and additional resources.
4) Implement a code enforcement platform for better management and community engagement.
5) Educate the community about property maintenance and benefits.
6) Create an inventory of unsafe properties and log nuisances.
7) Establish a plan with property owners on abatement strategies with timetables.
8) Make code enforcement a priority when other methods have failed.
9) Use PACE and other grant programs to provide financial support and incentives for property owners.
10) Report progress to Board of Public Works and Safety.
Courtney said he wants the community to understand that "we want to do something about this, and we are going to invest in full-time code enforcement resources ... We want this to be positive and work with the homeowners."
He said Madison is considering buying software to help better track such issues in the future. Both Jefferson County and the town of Hanover have moved forward with iWorQ software, designed for governmental agencies to track building permits, planning, zoning and more and Madison could follow the same route.
"We're looking at the same one," Courtney said, adding "there's benefits to that when we're using the same platform."
He said a lot of the emphasis in the city has been placed on nuisance issues related to trash and weeds in the past while incentives like PACE have targeted deterioration of historic structures. The Blight Elimination Plan, Courtney said, is "a natural evolution" that the emphasis now needs to be on the "enforcement side of things, which has been lagging."
Courtney said the city also needs to continue to find ways to engage property owners in the process with information and education.
"It's a lot about engagement, and letting people know there are options that they have," he said. "Even properties that are in really deteriorated states, there's options that they have, but one option that is not acceptable as a community policy is doing nothing. And that has happened all too frequently across town for a very long time, and we're going to add this into the things we're doing. It just makes Madison cleaner, safer, beautiful."